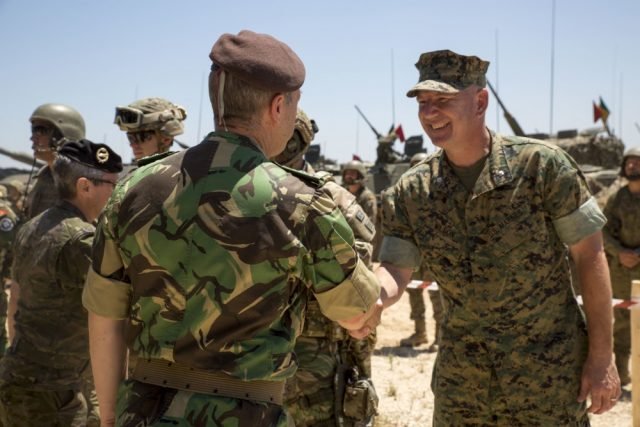 Story by Staff Sgt. Tia Nagle 
U.S. Marine Corps Forces Europe and Africa
U.S. Marines partnered with Portuguese forces to extract people in danger during a non-combatant evacuation exercise, June 21-24, 2016.
"Our role was to support the 1st Paratrooper Battalion in extracting designated personnel from various evacuation collection points dispersed around our forward operating base," said 2nd Lt. Kevin Ryan, a platoon commander with Special Purpose Marine Air-Ground Task Force-Crisis Response-Africa.
The Marines shared their small unit leadership approach with the Portuguese throughout Exercise Orion 16, demonstrating the importance of leadership at the squad and fire team levels.
"A chaotic and uncertain environment, such as the [counter-insurgency] environment the Marines conducted this exercise in, requires decentralized command. This allows for rapid reaction and fluid functioning on the ever-changing battlefield," said Ryan.
Exercise Orion is an annual crisis response training event hosted by the Portuguese military, bringing together forces from Portugal, Spain and the U.S. to enhance interoperability among NATO forces. This year marks the first time the U.S. was able to participate in the large-scale exercise.
"Exercises like Orion, allow Marines the opportunity to work with foreign militaries, providing invaluable experience for real life scenarios in which Marines will be cooperating and interacting with foreign security forces," said Ryan.