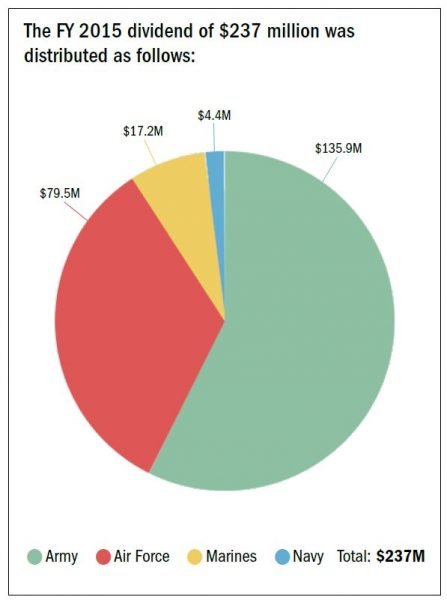 Army & Air Force Exchange Service Public Affairs
The Army & Air Force Exchange Service announced dividends of $237 million in 2015 to Army, Air Force, Marine Corp and Navy quality-of-life programs—up $13 million, nearly 5.5 percent from the previous year. In the past 10 years, the Exchange has contributed more than $2.4 billion in dividends to youth services, family counseling, physical fitness programs and other activities that make life better for service members and their families. 100 percent of Exchange earnings support service members and their families.
"Roughly two-thirds of Exchange earnings go toward the Services' quality-of-life programs, which promote readiness and resiliency and benefit military families," said Air Force Chief Master Sgt. Sean Applegate, the Exchange's senior enlisted advisor. "When service members shop or dine at the Exchange, they are investing in their own communities."
The remaining one-third of Exchange earnings pays for building new stores or updating existing ones to improve customers' shopping experiences. In 2015, the Exchange opened brand-new shopping centers at Fort Hood, Texas, and U.S. Army Garrison Wiesbaden, Germany. In addition, the Airborne Express at Fort Bragg, N.C., was expanded in the last fiscal year.
Exchanges at Nellis Air Force Base, Nev.; Joint Base Langley-Eustis, Va.; Beale Air Force Base, Calif.; Fort Campbell, Ky.; Fort Carson, Colo.; Fort Bliss, Texas; and Fort Leonard Wood, Mo.; as well as a Mini Mall at Fort Drum, N.Y., received face-lifts in 2015—all paid for with Exchange earnings.
Exchange support to the military goes beyond Soldiers and Airmen. Because the Exchange operates at some Marine and Navy locations, funds are also returned to Marines and Sailors.
The FY 2015 dividend of $237 million was distributed as follows:
Army:                                      $135.9M
Air Force:                                    79.5M
Marines:                                      17.2M
Navy:                                             4.4M
Total:                                      $237.0M
The Exchange's mission of providing quality goods and services at competitively low prices while generating earnings to support quality-of-life programs means that the Exchange benefit is more than finding a good price on merchandise.
"Shoppers who take advantage of their Exchange benefit at our stores or online at http://www.shopmyexchange.com are working to improve their communities," Applegate said. "100 percent of Exchange earnings support Soldiers, Airmen and their families. The Exchange is dedicated to standing alongside our service members."