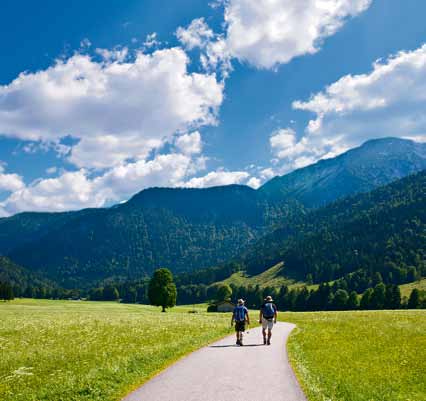 According to the World Wildlife Fund website, around 120 million tourists visit the Alps every year making the impact of tourism on Alpine nature considerable. New waves of 'mass tourism' threaten to destroy pristine wildlife areas – the very thing that attracts tourists in the first place.
Courtesy of the Federal Ministry for Economic Affairs and Energy
The international conference "Sustainable tourism in the Alpine region: a challenge (without alternative)" took place in June in Sonthofen (Allgäu) as part of Germany's presidency of the Alpine Convention. It is being hosted by the German government in cooperation with the Bavarian state government. The Alpine region is one of the most important recreation areas in Europe. Around 100 million tourists visit the Alps every year.
Jochen Flasbarth, State Secretary at the Federal Environment Ministry, commented: "Tourism is more dependent on healthy and attractive natural spaces than almost any other sector. However, in the case of tourism hotspots that are often in ecologically sensitive areas, like in the Alps, the tourism industry is often a source of environmental pollution and harm to nature. Sustainable tourism in harmony with nature and landscapes that is geared towards sustainable management and based on resource efficiency and climate action provides ideal prerequisites for making a lasting contribution to regional value added".
Iris Gleicke, Federal Government Commissioner for Small and Medium-sized Enterprises and Tourism, noted: "Germany has become a very popular holiday destination. We are one of the most popular destinations for nature-based holidays in Europe. The Alpine region also benefits from this. To ensure this continues, it is essential to maintain an equal balance between the ecological, economic and social aspects of sustainability. This includes social inclusion and economic prospects for rural regions that are often structurally weak. We need the combination of these sustainability elements to develop successful and competitive tourism options and services for the long term."
Around 200 participants discussed the impacts that the latest developments relating to climate change, new travel habits and holidaymakers' changing expectations have on tourism options and services in the Alpine region, and how Alpine tourism can be shaped in a sustainable and forward-looking way. As well as ecological sustainability, this involves securing economic viability for the future, conserving the special diversity of Alpine culture and the social aspects connected to good work and income opportunities.
Germany took over the presidency of the Alpine Convention for two years in November 2014. The German government is working closely with the Free State of Bavaria on this. The comprehensive policy called for in the Alpine Convention to ensure both protection and sustainable development in the Alpine region is at the heart of Germany's activities during its presidency. Germany is placing particular focus on greening the economy in the region, including from a tourism perspective.