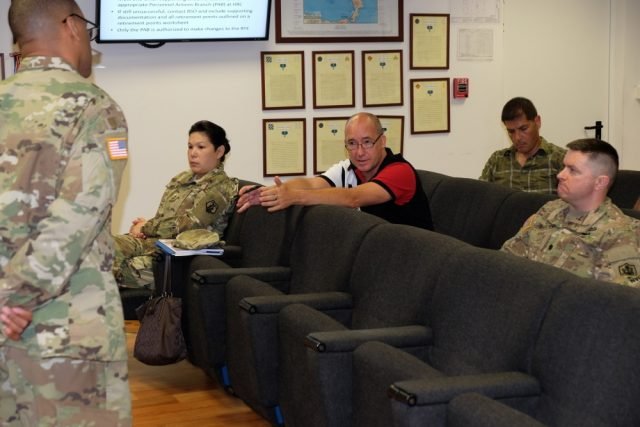 Story by Sgt. 1st Class Matthew Chlosta
7th Mission Support Command
The 7th Mission Support Command hosted the 99th Regional Support Command Retirement Services Office bi-annual preretirement brief Aug. 20, in Vicenza, Italy.  This brief is given bi-annually at alternating garrison locations in Stuttgart, Wiesbaden, Kaiserslautern, Vicenza and Grafenwoehr.
The 99th RSO briefs U.S. Army Reserve and National Guard military retirees and potential military retiree communities across Europe about USAR and NG retirement benefits and services with the 7th MSC providing support.
"As the only USAR command in Europe, 7th MSC drilling reservists, 7th MSC active guard reserve and Soldiers who have retired from USAR while serving the 7th MSC attend this brief, " said Philip Freeborn, G1, 7th Mission Support Command, who helped organize and promote the recent RSO brief.
Army Reserve 'Gray Area' Retirees
The events are open to USAR Soldiers and spouses interested in receiving the latest information to assist in retirement or in preparation for retirement, with the 99th RSC RSO mostly gearing towards "Gray Area" retirees (USAR retirees before age 60), Freeborn said.
The purpose of the briefing is to make sure the knowledge and understanding of all the programs and opportunities afforded to retirees so that they can make informed decisions as they plan for retirement, he added.
The brief covered many topics included the survivor benefit program, reserve retirement points, discharge vs. the retired reserve, final retired pay, Space A availability, VA benefits, commissary and Post Exchange accessibility.
"I am a 'gray area' retiree and I just want to make sure I do the retirement pay process correctly and the survivor benefit program so my spouse is covered," said retired Capt. Marvin Hoffland, who was a SETAF [Southern European Task Force] augmentation unit member and a former commander of the 663rd Movement Control Team.
Currently, Hoffland lives in Villach, Austria and works as an English lecturer at an Austrian university there.
"What I learned from today is to make sure my online accounts are up to date including my HRC [Human Resources Command] login, DoD [Department of Defense] Self-Service login," Hoffland said.
Turnout was good, but always looking for more
There were eight attendees at the brief with more than 20 during the two briefs last year, according to Freeborn.
"I feel really good about today's turnout," said Master Sgt. Kevin Watts, noncommissioned officer in charge, RSO, 99th Regional Support Command. "We were able to reach out to some key leaders and get the word out to increase our numbers. Our goal is to reach as many USAR and National Guard Soldiers in Europe which is our area of responsibility for retirement support services."
My tip to any Soldiers approaching military retirement is for them to update their AKO contact information and maintain a copy of their personnel and medical files, Watts added.
VA retirement benefits
Another very important part of meeting was the VA benefits for retirees brief given by Kelly Griffitt, the VA Benefits Advisor at Soldier for Life in the Transition Assistance Program at U.S. Army Garrison-Vicenza.
"I appreciated the timelines they gave us for [VA] educational benefits," said attendee Master Sgt. Elisabeth Hipolito from the 7th MSC.
Hipolito traveled from her duty station in Kaiserslautern, Germany to listen to the information provided.
She has a dual status, she is a senior training NCO as an Army reservist and is a force management programs analyst, both for the 7th MSC.
"Reservists should attend because the information may apply to them," Hipolito added. "The VA benefits brief is very informative."
Maj. Patricia Cruz, from the RSO, Office of the Chief of the Army Reserve also talked with the attendees about their current reserve retirement points.
"The importance of this brief is not to be taken lightly," said Freeborn.
Retired Soldier for life, not just a former Soldier retiree
The brief is sponsored by The Army Soldier for Life Retirement Services Program which provides assistance to Soldiers and their Families preparing for, transitioning to or already in retirement.
Through a network of RSOs, the program provides counseling to these groups on their rights, benefits and entitlements, assists with Survivor Benefit Plan [SBP] elections, assists with Reserve Component Survivor Benefit Plan [RCSBP] elections and keeps the retiree population informed of law and benefit changes, Freeborn said.
"This brief is important because many Reserve Component Soldiers generally have a good idea of the benefits they are to receive," said Col. Christopher Kuduk, 7th MSC. "The briefings the transition team conducts informs Soldiers including retirees and their families on how, when and to whom they must apply to receive what they have earned through their time in service.
"A Soldier needs to know the onus is on them to submit the paperwork for the benefits, " Kuduk added. "The Reserve component and retiree community is simply too large and too geographically separated to reach down to each and every individual."
Kuduk attended the brief as current 7th MSC Soldier and as the liaison between the 7th MSC and the two briefers, Watts and Cruz, who traveled from the U.S.
"The Army wants the retiree to stay engaged with the organization, tell the Army story, and remain Army Strong as an example in their community about what it means to be a Soldier," Freeborn said.
"Three main audiences"
"I think the transition briefs have three main audiences," Kuduk said. "The first are the Soldiers who are approaching 20 good years of service."
When a Soldier gets his 20-year letter they will have to make some decisions, he added.
The briefs inform Soldiers on the different options they should consider, Kuduk said. The transition team is able to perform points corrections, if Soldiers register ahead of time and bring documentation with them to validate their missing points.
"The second group are Soldiers who are past 20 years of service and will enter the 'gray area' of retirement where they are eligible for some benefits and not others," Kuduk said. "This group probably benefits the most since they have questions pertaining to their individual situations the transition team can help to answer.
"The last group are 'gray area' retirees who are approaching age 60 or the age where they are eligible to receive retired pay," Kuduk said. "They need to be informed on the process and timelines required to receive retired pay. The spouses of Soldiers and retirees in all three groups can benefit by asking questions pertaining to their particular situations."
A few sample retiree scenarios cited by Kuduk were: what if the couple separate, what happens if my spouse dies before age 60 and are any of our children eligible for benefits?
Preparation is key to Army Reserve retirement
"I highly recommend all Army Reserve component Soldiers make the time and effort to attend one of these day long briefings," Kuduk said. "It's about your future when your military career comes to a close. The briefings give you the tools to make informed decisions that will impact not only your life but those of your loved ones. Give this the time and effort it deserves. You won't be disappointed."
It's important to drive home the message that the retired Soldier continues to be a part of the Army Family, Freeborn said.
The next brief is tentatively scheduled for the Kaiserslautern area in the Spring of 2017.
For information on retirement services in Stuttgart, click here.