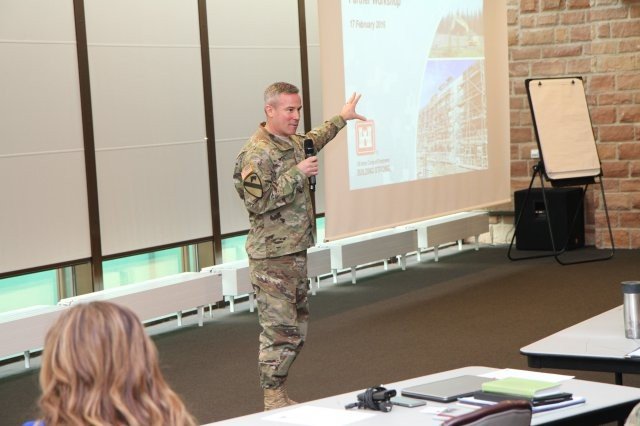 As the U.S. military takes steps to reassure allies over concerns about a more aggressive Russia in the east, stakeholders and project-delivery teams are tackling the largest construction program in Europe since the end of the Cold War.
Officials offered a snapshot Feb. 17 during the sixth annual U.S. Army Corps of Engineers Europe District Partner Workshop at Clay Kaserne, Wiesbaden, Germany. Engineer leaders from nearly every agency supported by USACE throughout European Command and Africa Command met to discuss mutual challenges, strategies and opportunities. More than 100 officials representing over 25 organizations attended the daylong session.
"We're all really looking at how we can operate more efficiently," Col. Matthew Tyler, the Europe District commander, said in his opening remarks. "In Europe, we are just as busy with construction as we were 25 years ago before the collapse of the Soviet Union and the fall of the Berlin Wall. And the pace of our work with our partners in AFRICOM is equally intense.""But if you think about Europe: Back then, there were about 500,000 military personnel and DOD civilians who were supporting the mission here. Now, we only have about 50,000 — you only have about 10 percent, and we're just as busy with all the things we have ongoing throughout Europe."Hot topics included the European Reassurance Initiative, Installation Management Command-Europe transformation, European Infrastructure Consolidation and stakeholder perspectives. Discussion centered on lessons learned, barriers to successful project delivery, and best practices to manage a dynamic and growing program.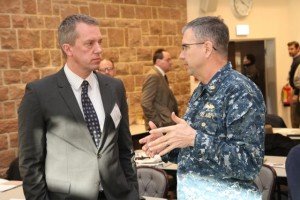 That will be critical in the framework of a Pentagon plan announced in early February to quadruple ERI spending in 2017 to $3.4 billion, leaders said. That's up from $789 million in the current budget year. The White House called the proposal a "significant augmentation of our efforts to ensure peace and stability in Europe" through NATO's collective security.
"Years ago, Grafenwoehr used to be Eastern Europe for us," said Jeff Jackson, IMCOM-Europe's construction program manager. "That's no longer the case."
Through this fiscal year, USACE is managing about $210 million in military construction and FSRM [facilities, sustainment, restoration and modernization] projects for the Army and Air Force in Eastern Europe, said Sean McDonald, the district's ERI program manager. The ventures are under construction or design in Romania, Bulgaria, Poland, Estonia, Latvia and Lithuania.
The Army's portion sits at 109 projects worth $128.8 million, while the district is executing 11 projects totaling more than $80 million for U.S. Air Forces in Europe. EUCOM officials say the sites will serve U.S. and NATO training requirements and contingency operations as improvements are made to airfields, cantonment areas, operations centers, training ranges and support facilities.
"ERI is really a showcase program that highlights all the capabilities in the Corps in one program," McDonald said. "We are providing services, planning charrettes and technical support. We are doing design contracts and putting together procurement packages. We're working in locations that we don't normally operate in, so we have to rely upon the services for support and we have to work closely with the host-nation governments so we can get the construction agreements in place.
"In terms of requirements, the situation is fluid. That's one of the challenges we've had but also an opportunity."
Another 63 ERI projects valued at more than $300 million are planned for the Army and Air Force through fiscal 2018, he added.
Lt. Col. James Lockridge, U.S. Army Europe's chief of construction, says his team will visit every country and approved site within the program between now and May.
"By June, we'll identify projects to turn over to USACE for FY2017," he said. "We've got guys downrange all the time. … Things are going a lot better this year than last. We still have some work to do, but we're working with USACE staff on the team approach and quality assurance."
Boosted by ERI and EIC efforts, Europe District's overall program — which covers MILCON, operations and maintenance, Foreign Military Sales and support for other agencies — is projected to top $1.1 billion in fiscal 2018, compared to roughly $680 million in 2013 and 2014.
"We have exciting programs underway right now," said Lalit Wadhwa, chief of the district's Program Management Branch. "Back in 2012, the workload projection was not too optimistic. Now, we have tons of work. The international security environment has changed, and investment in EUCOM and AFRICOM is growing. ERI is a large and fast-paced program. So is Aegis Ashore missile defense in Romania and Poland. Over the next decade, we will complete work on our two largest military construction programs, new 21st-century schools for the Department of Defense Education Activity and the new regional medical center that will replace Landstuhl Hospital.
"That's a big reason why we have this workshop. We are looking for innovative ways to accomplish this work together. Constant dialogue is critical in everything we do as partners."
Europe District has 15 schools in design and another three in construction as part of a $917 million package through fiscal 2018 for locations in Germany, Belgium and Turkey. Its entire DODEA program will impact nearly 30,000 students on the Continent.
Meanwhile, the district is reorganizing resident and area offices to balance its growing workload with core functions, Wadhwa said. The Central Europe Area Office will manage numerous projects at Ramstein and Spangdahlem air bases, Kaiserslautern and Baumholder.
By late 2017, the ROBMCR Area Office will be created to tackle major construction on the $990 million Rhine Ordnance Barracks Medical Center Replacement in Weilerbach, officials said. The facility is expected to open sometime in 2022.
"We need to ensure we have the right acquisition tools in place and are assessing risk with ability to deliver within budget and to the schedule we have committed to with our partners," said John Adams, attending his first workshop as deputy district engineer. "Having this discussion with our partners is an important agenda item as we set and manage expectations."
Europe District collects feedback through its annual Partner Survey, sharing data and actions taken to refine processes and strengthen relationships.
"It's always good to have some information exchange between the garrisons and Corps of Engineers," said Andrea Hoesl, project manager for the Directorate of Public Works' Engineering Division at U.S. Army Garrison Bavaria. "It leads to new ideas about how to solve problems. If we are able to straighten out processes and agreements, it helps us. … In general, we have a really good relationship with the Corps. But as it is with any team, if you've got one person who is not cooperative or not delivering in a timely manner, then the whole team sometimes cannot do the work that it's supposed to do."
As funds become available each year, managing plans and schedules is key to aligning partner expectations with USACE needs in moving the needle on projects and priorities, said James Beatty, chief of the USAG Bavaria DPW's Master Planning Division.
"It's something we need to carry back to the installation planning boards and the real property planning board so they can make informed decisions about future development within the communities," he said. "I enjoyed the opportunity to be here and work with everyone. We're in changing times. With everything shifting east now, that's the important place it needs to go."
The district is dedicated to delivering for all the commands, agencies and organizations in its area of responsibility, Tyler said.
"We want to provide the best support we possibly can," the district commander added. "It does come with challenges, but it's that constant communication which allows us to understand those challenges and do better within our relationship.
"The partnership we have means a tremendous amount to us. … It takes this great team to be able to accomplish all that we do to deliver these projects that support our national security and the security of our closest allies and partners within the different regions."
Read original article at: http://www.army.mil/article/164038/