By Nathan Herring
U.S. AFRICOM Public Affairs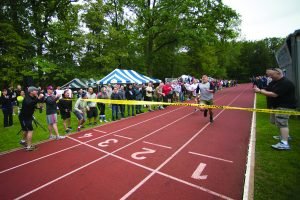 U.S. Africa Command staff and their families gathered at Kelley Barracks Aug. 12 for a day of fun, camaraderie, and competition during the sixth annual AFRICOM Olympics.
Competitors from throughout the AFRICOM staff directorates, U.S. Marine Corps Forces Africa, and Special Operations Command Africa, took part in in the games, which ranged from flag football to dodgeball.
"The AFRICOM Olympics is an opportunity for the entire command to get together and work on things like teamwork and some physical fitness and really just have fun and build esprit de corps," said Sgt. Maj. Jeffery Stitzel, AFRICOM acting command senior enlisted leader.
The event also brings together employees who may not have met previously.
"It's a great chance to network," Stitzel said. Often employees know everyone in their own directorate but the AFRICOM Olympics is a chance to meet new people at the command.
It also provided a chance for employees to spend time with their families.
"School starts in a couple of weeks in the Stuttgart area," Stitzel said. "What a great way for parents to spend some time with kids out here doing something fun with other members of the command."
For the third straight year, MARFORAF took home the commander's cup. SOCAF was second place and the AFRICOM J2 placed third. The Spirit Award went to the J4/6 team.
Additional photos of the AFRICOM Olympics on our Flicker Site.