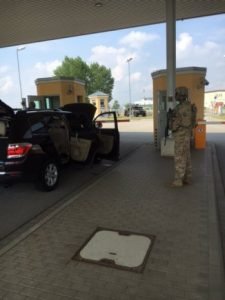 By U.S. Army Europe
As you travel around Europe, you are likely to see some increases in host nation security efforts, as well as in U.S. Army Europe's garrison security posture.
U.S. Army Europe's Antiterrorism Division would like to remind everyone that the command's common goal is to ensure it is postured to counter the threat of terrorism and provide a safe and secure environment for everyone.
You may see additional security guards, Soldiers and military police in and around U.S. Army Europe installations, more frequent and thorough security checks and inspections, and other random security activities. It is the collective efforts of security professionals, Soldiers, civilian workers and family members who help keep everyone safe.
Given the significant and persistent threat the world faces, one way to execute the protection mission is to take advantage of the newest security-related technologies. Fielding new equipment with advanced technology enhances the ability to detect dangerous materials and improves the quality of searches at access control points and security checkpoints.
Some of these technologies are now available at Army Europe installations.
U.S. Army Europe is employing new equipment with advanced detection capability at installations throughout the region according to a force protection specialist in U.S. Army Europe's Antiterrorism Division.
Coupled with expanded measures designed to reduce the terrorist threat, U.S. Army Europe's security professionals are working closely with host nation partners to maintain a robust deterrence and response capability, the force protection specialist explained.
"As we implement these new technologies, visitors to installations may experience delays or other inconveniences when accessing our facilities," the force protection specialist said. "However, we anticipate these delays will be minimal, and short-term as we adjust our procedures."
The Antiterrorism Division recommends everyone consider building additional time into travel schedules to alleviate the possible effects of those delays.
Security starts with everyone's involvement, such as remaining vigilant, reporting suspicious activity and making prudent personal decisions. Today's operating environment has changed and we must change with it — fielding new technology and adapting our security procedures are just one aspect of keeping our personnel and communities safe.
"Anyone stationed in Europe is encourage to follow U.S. Army Europe's Antiterrorism Division on Facebook and Twitter," the force protection specialist said. "Army Europe's Antiterrorism Division regularly posts information on upcoming protests and demonstrations so people can avoid the area, and we share other relevant information and resources for keeping you and your family safe while living and traveling abroad."
Information, resources and information on current travel restrictions are posted on the Travel Safe microsite, available at http://www.eur.army.mil/travelsafe/. The Antiterrorism Division's Facebook page is available at https://www.facebook.com/StaySafeAntiterrorism/, and they tweet at https://twitter.com/staysafeeurope.
The Antiterrorism Division reminds everyone to make sure they know the procedures for reporting suspicious activities or behavior to the proper authorities. Use the iReport website, http://www.eur.army.mil/iReport/, or mobile app to submit information to counterintelligence or law enforcement officials.
All personnel are also reminded that registering any travel away from their duty station with the State Department's Smart Traveler Enrollment Program, or STEP, is now required. More information is available at https://step.state.gov/step/.