By John Reese
U.S. Army Garrison Stuttgart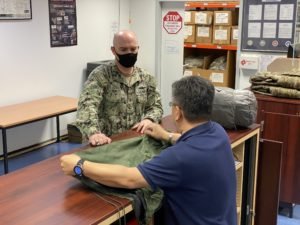 While these aren't normal times, the Central Issue Facility team is on the job to get warriors the gear they need for mission accomplishment or check that block as they in-process or before they PCS-out, retire, or reach their "expiration term of service," more commonly known as ETS.
All active duty Army personnel must in-process with CIF and service members about to make a permanent change of station or leave the military from U.S. Army Garrison Stuttgart must then return any equipment they signed for from CIF.
The process usually takes less than 15 minutes.
"The Stuttgart CIF is unique in that other services stationed here also draw their gear from it. No other CIF in Europe supports all branches," said Nate Holmes, a supply technician with the 405th Army Field Support Brigade, who oversees the Stuttgart CIF.
Marines assigned to Stuttgart are required to in-process with CIF within 30 days of arrival for issue. All other branches will be supported upon request pending mission requirements and authorization from their chain of command.
The Stuttgart CIF is unique in that it supports all branches stationed here.
Normally, PCS season is from May to October. The process of being issued "battle rattle" or returning it, has been slowed by COVID-19. Stuttgart's CIF maintains a stock of organizational clothing and individual equipment, or OCIE, for the Marines. The CIF team's work must continue so that military personnel in the Stuttgart military community have operational continuity.
"We are currently slow due to the pandemic, with limited staff and service members not being able to move," Holmes said. "So we are focusing on the ETS, retirement, separations and PCSers with exceptions to policy, because their movement has not stopped."
The CIF team gathers information about personnel affected by the stop-movement order, asking those Soldiers to apprise them of their situations and schedule an appointment. For the most part, personnel who need to turn in only a few items can be accommodated quickly while things are slow to help flatten the anticipated post-COVID curve, Holmes said.
"We continue to try and limit the face-to-face interaction with customers," he said.
According to Holmes, newcomers should expect friendly customer service. All active duty Army service members need to in-process CIF upon arrival. Stuttgart CIF is currently accepting weekday appointments.
For more information call 07031-15-3210 or DSN 431-3210 or email CIF at usarmy.stuttgart.405-afsb-lrc.mbx.cif1@mail.mil.