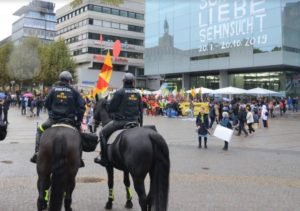 In the coming days, several demonstrations will take place in the Stuttgart area
On Saturday, July 11, there will be up to 5,000 people at Stuttgart's Unterer Schlossgarten from 3:30 to 6:30 p.m. for the "Festival for Freedom and Peace."
On Saturday, July 11, the "Initiative Black People in Germany" will hold a demonstration at the Oberer Schlossgarten/Eckensee from 1 p.m. to 6 p.m., with about 200 people expected to attend.
On Sunday, July 12, a "Vigil for the Polizei" will be staged at Kleiner Schlossplatz, from 5 p.m. to 8 p.m., with about 200 people expected.
On Monday, July 13, Antifa Stuttgart will hold a demonstration in Stuttgart at the Marienhospital from 12:30 p.m. to 2:30 p.m., with about 30 people expected.
As with all demonstrations, all DOD members, family members, and contractors are advised not risk their safety and to avoid these areas.
While most demonstrations are intended to be peaceful, violence may occur. Agitators and counter demonstrators, unknown to event organizers, may also attend. If a community member unexpectedly encounters a hostile demonstration, they should depart the area or seek shelter if they are unable to leave. Listen to host nation authorities and don't engage with demonstrators.