Story, video & photos by Becca Castellano
U.S. Army Garrison Stuttgart
In the early hours of August 25th, Spc. Brian Morrow left Panzer Kaserne with a simple mission — to fly Old Glory above Robinson Barracks to fulfill a former Soldier's request.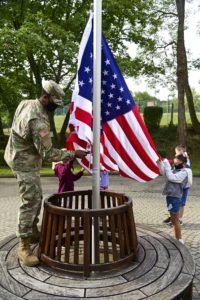 Morrow dodged through 45 minutes of morning traffic to get there early. With the help of four elementary school students, he hoisted the U.S. flag on behalf of Eric Aschendorf, another Army specialist who served on RB more than 35 years ago.
"This was where I served," Aschendorf said. "So, when I realized that any day could be my last, I started planning and I wanted this to be covered."
In 1981, Aschendorf graduated from Army training and received orders to Stuttgart. He would come to call Robinson his home for the next three years. He loved watching the sheep graze on-post. While the sheep are still sighted at RB, the post that he remembers has changed a lot since his departure in 1984.
Today's residents love RB for its peace and quiet, despite its distance from amenities like the Exchange and most places of employment. But in Aschendorf's day, the post was home to the largest Exchange in Europe with a bowling alley, bank and post office inside and work was just down the street from his on-post apartment on top of the hill.
"We had everything on base," said Aschendorf who recalled the Army hospital in Bad Cannstatt as the only amenity not located on RB.
The Aschendorf family loved their time in Stuttgart, spending most of it off base, exploring their local community. He fondly recalled their favorite gasthaus down the hill. To this day he still eats French fries with pommes frites sauce.
"We always felt so welcome, we were just accepted. It was a great place to be."
"When I had a day off, we were always out in the community exploring and enjoying the friendly locals," said Aschendorf, who misses the people in Stuttgart the most. "We always felt so welcome, we were just accepted. It was a great place to be."
Aschendorf left Stuttgart and the Army for a career in the federal service in 1984. But the memories made during his time there have stayed with him over the last 36 years. When he was forced to retire in 2012 due to medical reasons, he realized that life was short and he wanted to prepare for his eventual passing, and ensure his time in service was represented at his funeral.
Through a congressional request, Aschendorf asked for a flag that had been flown over Robinson Barracks to be draped over his casket when the time came.
Garrison staff supported his request, enlisting Morrow to do the honors. While the base has changed between Aschendorf's time and Morrow's, for both men, the meaning of service and sacrifice has not.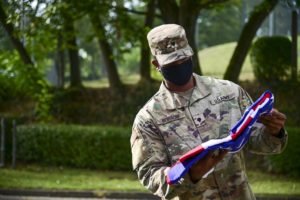 "I felt privileged to be able to commemorate his service this way," said Morrow. "Even though he was stationed here more than 30 years before me, I understand why this place means so much to him. I love it here."
"He spent his life's work giving to his country," said Morrow. "This was such a small thing but it was my honor to show my respect and help out a fellow Soldier this way."
The flag will be returned to Aschendorf to grace his coffin when the time comes. Until then, he will enjoy his retirement and his memories of Stuttgart with some fries and pommes frites sauce.
"It was an awesome time of my life and I'm grateful for every day of it."