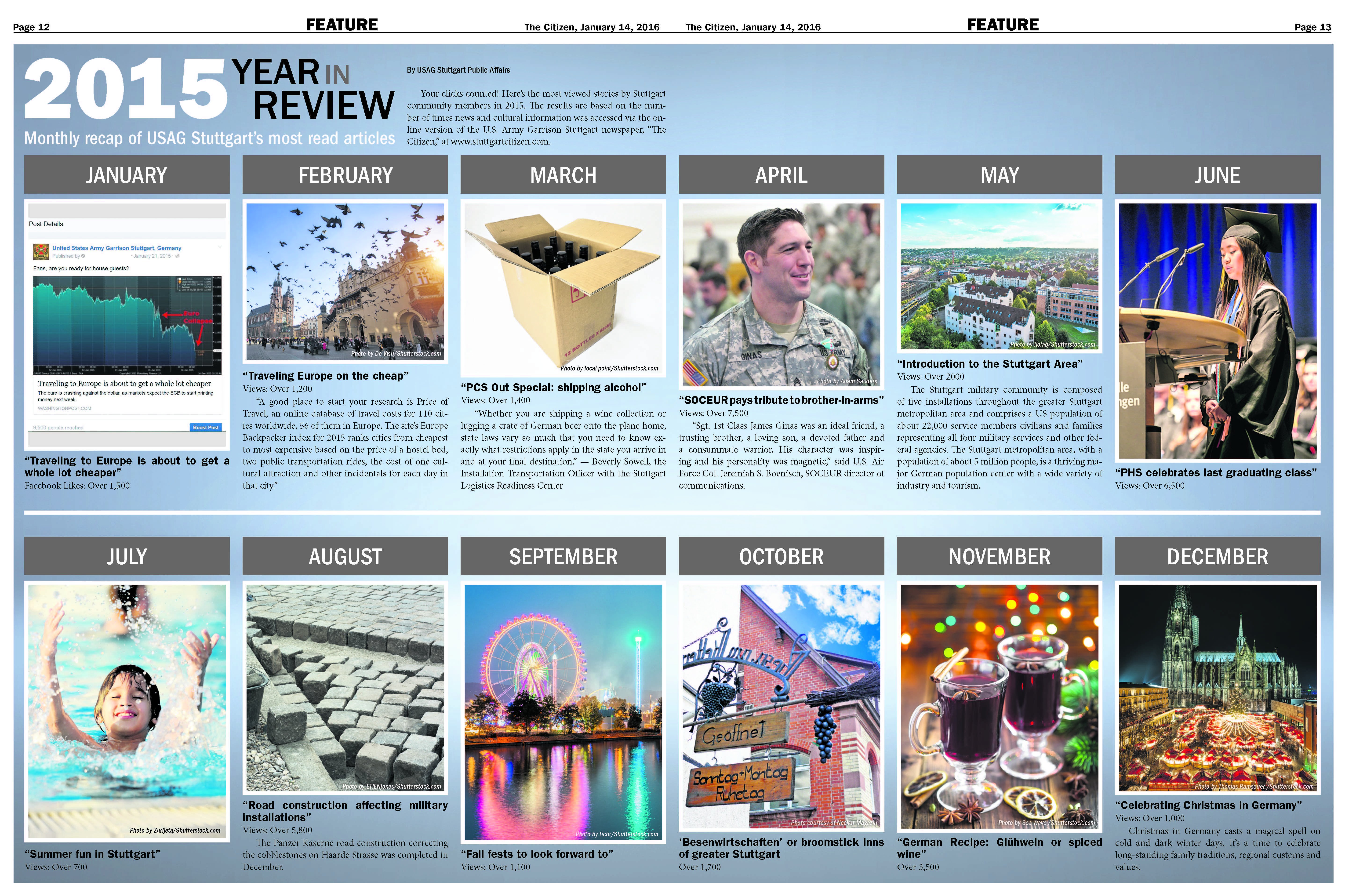 By USAG Stuttgart Public Affairs
Your clicks counted! Here's the most viewed stories by Stuttgart community members in 2015. The results are based on the number of times news and cultural information was accessed via the online version of the U.S. Army Garrison Stuttgart newspaper, The Citizen, at www.stuttgartcitizen.com and the official garrison Facebook page at www.facebook.com/USAGarrisonStuttgart.
January
"Traveling to Europe is about to get a whole lot cheaper" shared on Facebook, click to view the story by The Washington Post.
Facebook Likes:  1,500. Over 9,500 reached.
February
Views: Over 1,200

"A good place to start your research is Price of Travel, an online database of travel costs for 110 cities worldwide, 56 of them in Europe. The site's Europe Backpacker index for 2015 ranks cities from cheapest to most expensive based on the price of a hostel bed, two public transportation rides, the cost of one cultural attraction and other incidentals for each day in that city."
March
Views: Over 1,400

"Whether you are shipping a wine collection or lugging a crate of German beer onto the plane home, state laws vary so much that you need to know exactly what restrictions apply in the state you arrive in and at your final destination." – Beverly Sowell, the Installation Transportation Officer with the Stuttgart Logistics Readiness Center."
April
Views: Over 7,500

"Sgt. 1st Class James Ginas was an ideal friend, a trusting brother, a loving son, a devoted father and a consummate warrior. His character was inspiring and his personality was magnetic," said U.S. Air Force Col. Jeremiah S. Boenisch, SOCEUR director of communications.
May
Views: Over 2000

The Stuttgart military community is composed of five installations throughout the greater Stuttgart metropolitan area and comprises a US population of about 22,000 service members civilians and families representing all four military services and other federal agencies. The Stuttgart metropolitan area, with a population of about 5 million people, is a thriving major German population center with a wide variety of industry and tourism.
June
Views: Over 6,500
Remembering the last class of Patch High School before the Stuttgart High School on Panzer Kaserne opened for the 2015-2016 school year.
July
Views: Over700
Everything you need to know to make a splash during the summer in Stuttgart including outdoor pools, theme parks and more.
August
Views: Over 5,800
Remember that road construction and detour to Panzer Kaserne that happened over the Summer of 2015? Plus, installation updates to roads this fall, the Panzer Kaserne road construction correcting the cobblestones on Haarde Strasse was completed in December.
September
Views: Over 1,100
Attending a Fest in Stuttgart during the Fall is a must-do event, from Wine Fest "Weindorf" to Canstatter Volksfest or Oktoberfest of Stuttgart, there are fun Fests of all types for adults and children.
October
Over 1,700
"While stationed here in the greater Stuttgart area, you should get to know an ancient and truly local treat of the area, "Besenwirtschaften," or broomstick inns. These temporary taverns, or wine bars, have been around since the ninth century."
November
Over 3,500
The dawn of Christmas Market season in Europe mean a popular hot beverage called Glühwein or mulled wine can be at many markets and restaurants for sale. Learn how to make this traditional beverage at home.
December
"Celebrating Christmas in Germany"
Views: Over 1,000
"Christmas in Germany casts a magical spell on cold and dark winter days. It's a time to celebrate long-standing family traditions, regional customs and values."
Top news story overall in 2015
The completion of Stuttgart High and Stuttgart Elementary schools on Panzer Kaserne.
Here is a look back at the first day of school, written by Senior and Career Practicum Intern at the Public Affairs Office, Megan Brown. Click here to read the article.