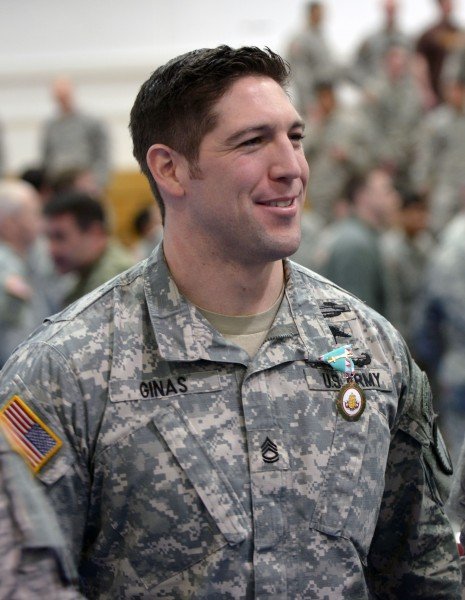 Special Operations Command Europe Public Affairs
Special Operations Command Europe, joined by members of the local special operations community, Stuttgart military community, Hungarian special operations representatives, and the German army, gathered to remember and pay tribute to Sgt. 1st Class James M. Ginas III during a memorial ceremony at Patch Barracks April 27.
Ginas, 30, who passed away April 18, was a highly decorated Special Forces Soldier remembered for his infectious smile, positive attitude and warrior spirit.
"Sadly, SOCEUR will not be the same without him," said Air Force Maj. Gen. Gregory J. Lengyel, SOCEUR commander. "Jim was the nicest guy you'd ever want to meet, but he was also a complete badass. If I were casting an actor to play an SF Soldier, Jim Ginas is the guy I would choose."
Ginas, well respected around the world, will be remembered for breaking down barriers between people and being a friend to everyone he met.
"Sgt. 1st Class James Ginas was an ideal friend, a trusting brother, a loving son, a devoted father and a consummate warrior. His character was inspiring and his personality was magnetic," said U.S. Air Force Col. Jeremiah S. Boenisch, SOCEUR director of communications. "Wherever he went there was sure to be smiling, jokes and laughter. He never shied from the tough tasks, but instead went headlong after them with dogged determination to get it done right. Tragically, his time on this earth was short, but his impact is permanent. It is with heavy heart we say goodbye, but we thank Jim for the memories and making the lives of those around him better."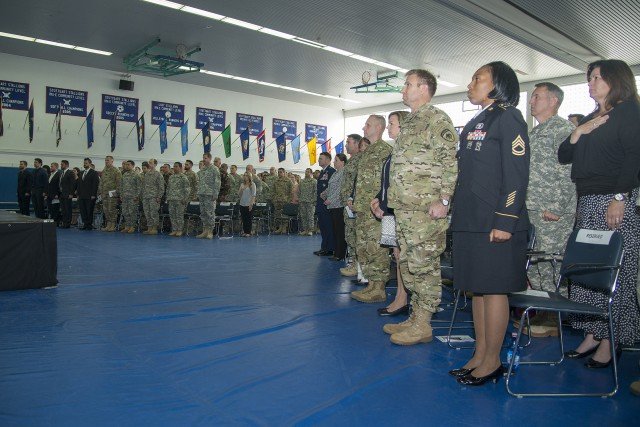 Ginas was born April 12, 1985, in Long Island, N.Y. The oldest of three children, he graduated from Westlake High School in Waldorf, Md. in June 2003.
Awarded an Army Reserve Officer Training Corps scholarship, Ginas ultimately decided to enlist in the U.S. Army in April 2003 as a signal intelligence analyst. He completed basic combat training at Fort Jackson, S.C., and advanced individual training at Good Fellow Air Force Base, Texas, before being assigned as a signal intelligence analyst with B Company, 3rd Military Intelligence Battalion, at Camp Humphries, South Korea.
After his tour in Korea, Ginas moved to Fort Campbell, Ky., where he served as a Special Operations Team Bravo signal intelligence analyst for 3rd Battalion, 5th Special Forces Group. He completed two deployments to Iraq in support of Operation Iraqi Freedom before attending the Special Forces Assessment and Selection.
Upon being selected for Special Forces training in June 2008, Ginas moved to Fort Bragg, N.C., to complete the Special Forces qualification course.
In May 2010, Ginas graduated SF training as a communication sergeant and was selected as the Special Forces qualification course honor graduate. He was then assigned to 1st Battalion, 10th Special Forces Group in Stuttgart. While at 1-10 SFG, Ginas completed two combat tours to Afghanistan in support of Operation Enduring Freedom as part of Task Force-10 in Surobi, Kunar and Jalabad.
Since August 2013, Ginas served as the contingency communications planner at SOCEUR and deployed to the Ukraine in support of contingency efforts.
Ginas' awards include the Bronze Star Medal with Valor, Bronze Star Medal, Purple Heart, Defense Meritorious Service Medal, Army Commendation Medal with Valor, Army Commendation Medal with three Oak Leaf clusters, Army Achievement Medal with two Oak Leaf clusters, Joint Meritorious Unit Award, Meritorious Unit Commendation with Oak Leaf cluster, Army Good Conduct Medal with three loops. National Defense Service Medal, Afghanistan Campaign Medal with two Campaign Stars, Iraq Campaign Medal with two Campaign Stars, Global War on Terrorism Medal, Korea Defense Service Medal, Noncommissioned Officer Professional Development Ribbon with numeral 3, Army Service Ribbon, Army Overseas Ribbon with numeral 4, and NATO Medal. His badges include the Combat Infantryman Badge, Parachutist Badge, Air Assault Badge, Military Freefall Parachutist Badge, Bronze German Airborne Wings, Gold German Armed Forces Proficiency Badge, Gold German Schutzenschnur, Ranger Tab and Special Forces Tab.
Ginas is survived by his wife, daughter, mother, father, sister and brother.