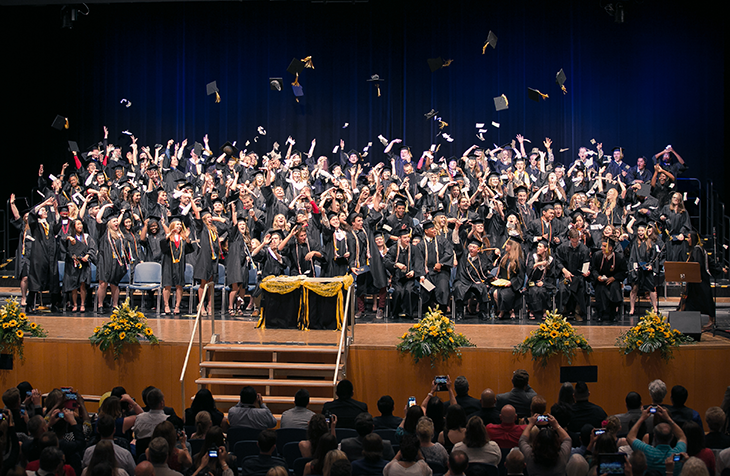 By Megan Brown
Special to The Citizen
Hats are off to the last graduating class of Patch High School.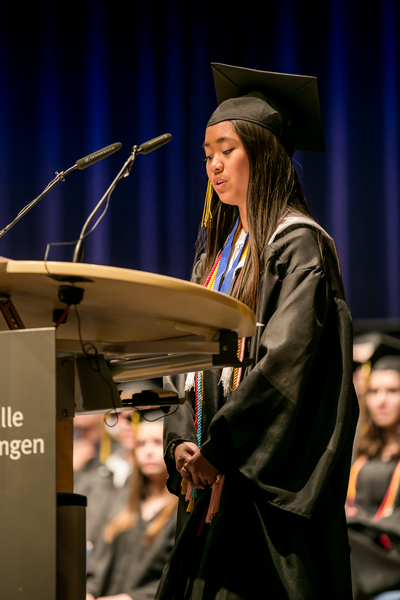 The Class of 2015, 150 students strong, crossed the Sindelfingen Stadthalle stage June 2 wearing the iconic black robes, and black and gold tassels to collect their diplomas and bid a fond, final farewell to the school that first opened in 1979.
In the fall, high school students will attend Stuttgart High School on Panzer Kaserne, now in the final stages of construction.
The evening ceremony was kept lighthearted. Student speeches were peppered with jokes about why the Class of 2015 was the last class to graduate ("We were such a fantastic senior class that the district decided no other class after us should get the honor of graduating from here.") or with jokes that poked fun at the lower grades ("The junior class is the worst, I mean first, graduating class of Stuttgart High School.").
Mitchell Bailey, the senior class president, opened the ceremony and was back at the podium in minutes, addressing the audience as salutatorian, along with co-salutatorian Kaela Lynch.
Some of the speeches included extended metaphors and similes.
Senior Class Presenter Thomas Harwood compared high school to a transatlantic flight back to the U.S. According to Harwood, senior year is the inflight meal that everyone's been waiting for, but when they take a bite of the chicken, they realize "it's dry, and you get tired of it after the first few nauseating bites." Valedictorian Sharmaine Poblete compared graduation to falling off a cliff, adding "you just have to hope you have the right equipment, and Patch High School truly provided us with that."
In between the speeches, seniors (and sisters) Alexandra and Jessica Westover performed their original song called Set Us Free, which told of the difficulty that parents can have in saying goodbye to their children and the joy they feel when their children succeed.
Principal Danny Robinson presented the students with their diplomas. As each name was called, the student's future plans were announced, whether it was attending a certain college, entering the military or taking a gap year to do volunteer work.
The ceremony ended with Claire Levitt, the senior class secretary, thanking the speakers, school administrators and educators, fellow students, and friends and families on behalf of the senior class.
She then led the class in the time-honored tradition of moving their tassels from right to the left. After Levitt's command of "make it rain," the newly graduated seniors tossed their hats, along with play money, in the air.
The ceremony might have been the final event for Patch High School, but its legacy will live on, according to Principal Robinson. "The positive culture and climate that is Patch High School will continue to flourish at Stuttgart High School," he said.
To see a PDF of the Class of 2015 senior portraits, click here.