By Holly DeCarlo-White
USAG Stuttgart Public Affairs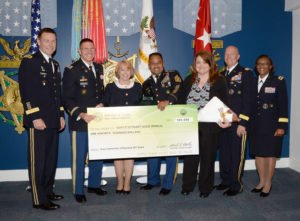 The two highest installation excellence honors an Army garrison can earn ­– the 2017 Army Community of Excellence (ACOE) Gold Medal and the Department of Defense Commander in Chief's Award for Installation Excellence – were awarded to the U.S. Army Garrison Stuttgart.
Both awards focus on how well a military garrison has implemented and strives to improve its processes and programs to benefit their community members and workforce. ACOE was awarded to Stuttgart from the more than 70 Army garrisons worldwide, while the Commander in Chief's award spans all service branches.
In fiscal year 2016, 26 garrisons participated in the ACOE program. Submissions are evaluated by the Malcom Baldridge criteria framework to measure effectiveness. Baldridge uses a systematic approach to organizational performance based on seven assessment areas: leadership; strategy; customers; measurement, analysis, and knowledge management; workforce; operations; and results.
For the ACOE assessment, each installation documents its strategic planning, performance, process improvements and initiatives for innovation. Only six are selected to be further evaluated during an in-person site visit by teams of trained experts at the Office of the Assistant Chief of Staff for Installation Management and Installation Management Command headquarters.
"It is a huge accomplishment to receive a site visit," said Cherie Westphal, USAG Stuttgart Plans Analysis Information Office (PAIO) chief. "Just by being selected for a site visit, it says that we are one of the top six installations in the Army. It also creates an opportunity to share best practices with other garrisons, said Westphal.
Stuttgart's Plans, Analysis, and Integration Office analyzed more than 200 services offered to the U.S. military population of about 23,000 community members. Key strengths identified by the ACOE and DOD level awards included delivering all products and services above the Army's standard capability levels with regularly conducted analysis on customer interests and expectations. Simultaneously, USAG Stuttgart maintains bilateral partnerships with 15 surrounding host nation municipalities.
"With all the great processes and programs in the garrison, it is challenging to fit all the information within the 50 page ACOE application packet that answers the Baldrige criteria. It is an ongoing process to keep the information up to date throughout the year," said Westphal.
Notable programs USAG Stuttgart gained recognition for by the DOD were described in the official release as follows: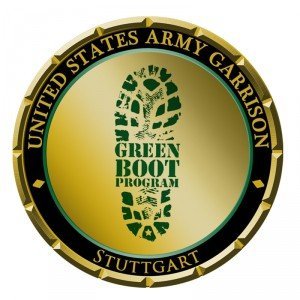 "Green Boot" Program
The USAG Stuttgart team encouraged smart risk taking by embracing innovations that had substantial payoff potential. For example, the Department of Public Works' "Green Boot" program promoted thoughtful resource utilization and environmental protection behaviors, leading the installation to locate hazardous material reuse and recycling centers throughout the community to enable convenient and accessible disposal of hazardous materials.
Garrison Mentorship and Workforce Development
The garrison's Workforce Development and Mentorship programs reinforce new job knowledge and skills. USAG Stuttgart creates an environment for improvement of organizational performance and learning opportunities for the workforce. Local national and U.S. employees are afforded the same training opportunities and certification courses, such as though the Civilian Education System. Garrison sponsored or hosted events are also open to all members of the workforce and their friends and family.
The command group is always accessible to its workforce to discuss any concerns that may arise. Appropriate action is taken to ensure that set policies and the guidance of legal and ethical behavior are carried out. The command team teaches, coaches and mentors the workforce, as well as counsels personnel regularly on their actions.
Stuttgart's Family and MWR cross-trains all employees and assigns them to generalist position descriptions, this allows the garrison to fill any capability gaps as well as increase employee skills. When new personnel arrive, all garrison employees have the opportunity to participate in tours of the installations, the local hospitals and the local German government. These tours are led by the Directorate of Human Resources (DHR) and Public Affairs Community Relations offices respectively.
"Employees who have attended the Onboarding Tour through the Workforce Development Program have appreciated the opportunity to get oriented to the physical layout of the installations, meet co-workers from outside their directorates, and interact directly with the command's senior leadership," said Debra Peake, USAG Stuttgart DHR specialist. "The tour provides employees an interactive way to learn more about the community in which they work, the commands they support, and their employer, the Army."
The garrison DHR also designed a Ready Resiliency Campaign and a Health Promotion Program to keep the health and safety of service members a high priority. As an example of continuing excellence, in April 2017, garrison commander Col. Glenn K. Dickenson also signed a policy to instate the Civilian Fitness Program for garrison workforce allowing excused time specifically for physical activity.
Knowledge Management Work Group
The implementation of the Knowledge Management (KM) work group is an example to support the belief that people are the most valuable asset. USAG Stuttgart has an effective process to manage organizational knowledge using SharePoint as its main KM platform. Key workforce processes can be improved across the garrison via internal suggestion submission. Personnel can submit ideas and solutions for process improvements in any directorate or service via the garrison SharePoint page. Examples of process improvements that have come about through KM are the online appointment systems for vehicle registration and inspection, and updated procedures for security clearances, as well as new employee computer setup.
Resources and Services
In addition, the garrison demonstrated resource innovation through smart master planning that consolidated in-processing services and support in a single highly accessible location, co-locating a hotel, in-processing activities, personnel services and a housing office adjacent to the retail shopping area. This innovation allowed the garrison to provide enhanced and more convenient customer service. The installation's Program Budget Advisory Committee provided advice and oversight to enhance fiscal accountability over multiple financial programs.
The garrison identified a variety of approaches that satisfy multiple requirements while maintaining high customer satisfaction levels despite challenges in funding and staffing. The operational changes made to consolidate vehicle registration, ID card issuance and passports in one location in addition to the accommodation of walk-ins has generated increased customer satisfaction levels.  Additionally, employees are being cross-trained in multiple areas to address staffing cuts, maintain customer service levels, and improve workforce development and engagement. A well-deployed process to effectively use voice of the customer data may help USAG Stuttgart improve its competitive position and achieve its vision.
Interactive Customer Evaluation (ICE)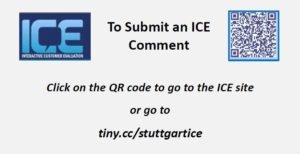 USAG Stuttgart has the "ICE" (Interactive Customer Evaluation) program, an effective process to determine customer satisfaction, dissatisfaction and engagement. Senior leadership is actively involved in evaluating customer feedback regularly to identify root causes for issues and enable service improvements whenever possible. As a continued improvement to the process, in May 2017, the garrison ICE program went paperless to further increase customer response time and save resources and paper.
Additionally, the garrison uses periodic surveys, formal and informal feedback, and focus groups to evaluate customer satisfaction. The garrison recently held its first communication focus group, May 10, on Panzer Kaserne to continue to improve customer service and information flow within its footprint.
The garrison command team also engages with customers personally at staff calls, mission partner all hands, and workforce and community town hall meetings where there is open communication.
Administrators of the garrison's Facebook page respond within the hour to customer comments and direct messages during business hours to continue to effectively meet and exceed the current and future needs of customers.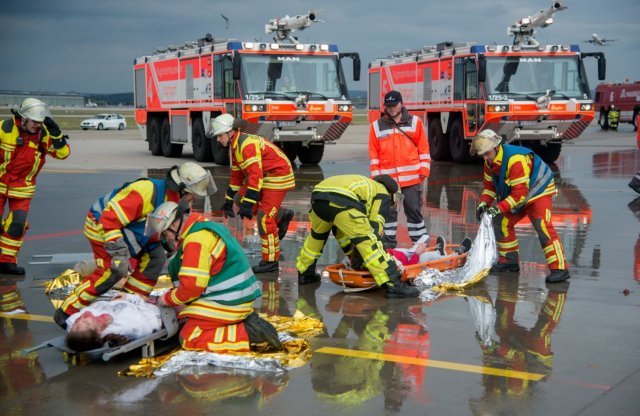 Emergency Preparedness
USAG Stuttgart relies on external host nation first responders, suppliers and partners. The annual full-scale exercises, "Stallion Shake," takes place in the fall with host nation police, fire and medical. There are multiple agreements with local cities to provide dedicated police and fire support to each of the five installations.
"I'm extremely proud of the amazing garrison team that supports the units and family members of the Stuttgart community," Dickenson said.
The garrison's other noteworthy installation achievements included winning the Exemplary Workforce Development Award and the 25th Annual Army Community Drug Awareness Award.
______________________________________
About USAG Stuttgart
USAG Stuttgart continuously strives to support and sustain mission-ready combat forces, to enhance resiliency and well-being, to provide a quality work and living environment for service members and their families, and to employ best practices to exceed customer expectations and mission requirements.
The garrison military community is comprised of five geographically dispersed installations in the area around Baden-Wurttemberg, Germany. USAG Stuttgart is home to U.S. European Command, U.S. Africa Command, Special Operations Command Europe, Special Operations Command Africa, and other units that direct or deploy to support military operations on two continents, either unilaterally or in concert with coalition partners.
About ACOE
The ACOE is an annual assessment of installation management created in 1988 to recognize achievements in overall performance improvement within the federal sector. The program is designed to improve installation operations and readiness through business transformation processes. Such achievements continue to serve as models for all government organizations in ways to approach change, deliver value to the customer, promote best management techniques, and encourage sharing of lessons learned. ACOE criteria is founded on the core values of visionary leadership, customer driven organizational and personal learning, agility, valuing employees and partners, focus on the future, managing for innovation, management by fact, public responsibility, focus on results and creating value, and systems perspective.