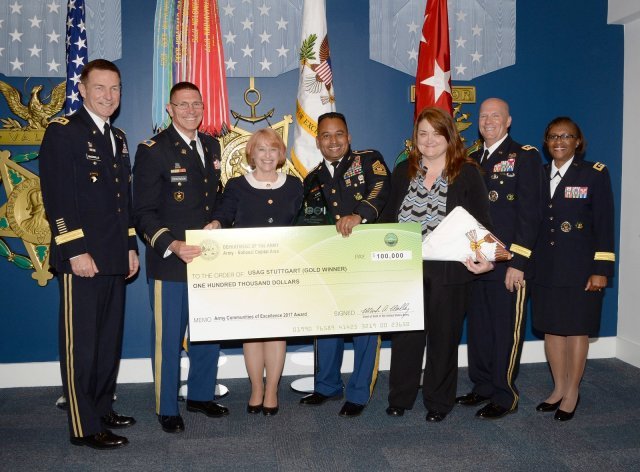 By Stacy A. Ouellette
Army News Service
The garrison commander of the Army's top installation equated his role to one of a town mayor: overseeing an interconnected community of people, places and services.
U.S. Army Garrison Stuttgart was the top winner of the 2017 Army Communities of Excellence Awards for active-duty installations in a ceremony May 24 at the Pentagon's Hall of Heroes.
The ACOE Awards honor the top active Army, National Guard, and Army Reverse installations that have achieved high levels of excellence in building a quality environment, outstanding facilities and superior service.
"Soldiers, civilians and families depend on 156 installations around the globe and more than 1,100 community-based Guard and Reserve centers," said Lt. Gen. James C. McConville, deputy chief of staff, G-1.
"The Army's people are our most important weapons system and readiness is a priority. Each of you should be proud of your efforts and today we recognize the communities who have gone above and beyond," he told the assembled crowd.
This was the first time Stuttgart placed in the ACOE competition.
Read more about what made USAG Stuttgart the Army's Gold Community of Excellence.
"We have a phenomenal team and the beauty of it is the processes, strategic planning and command philosophy were already in place." said Col. Glenn Dickenson, Stuttgart garrison commander, about his community winning gold.
The silver winner was Fort Rucker, Alabama, home of the U.S. Army Aviation Center of Excellence and the aviation branch. USAG Rucker hosts the largest helicopter flight training mission in the world, along with the myriad missions of 40 tenant organizations. The garrison staff credited their award to an integrated management system based on the Malcolm Baldrige framework.
USAG Wainwright, Alaska and USAG Fort McCoy, Wisconsin both were recognized with bronze awards.
USAG Daegu and USAG Fort Drum received honorable mentions.
ACOE is sponsored by the chief of staff of the Army, and overseen by the assistant chief of staff for Installation Management. During a year-long process, ACOE applicants are assessed and evaluated against Army priorities and the Malcolm Baldrige Criteria for Performance Excellence. Since 1989, the ACOE program has recognized Army communities for their commitment to providing quality services and excellent support to readiness.
The ACOE awards competition goes beyond the trophy, ribbon, and monetary award, several of the winners said. The competition is about strengthening the readiness of the Army, they said, by investing in the communities that support Soldiers, their families, civilians and their local partners.