USAG Stuttgart Public Affairs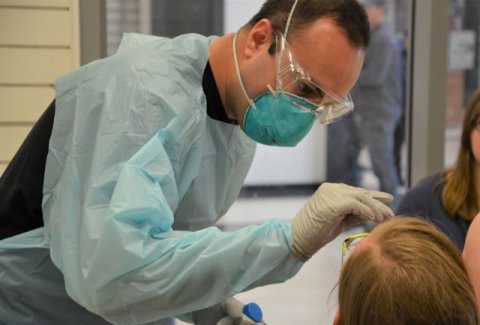 Note: This page is regularly updated to reflect changing conditions.
Google Chrome users: If a previous version of the guidelines appear (dated differently from the link above), clear your cache or use another browser to view the updated guidelines. This is due to the way Chrome caches PDF files.
Note for Tricare beneficiaries: Off-post testing is only reimbursable if required by an off-post provider as part of an evaluation and treatment plan
---
On-Post Testing Location and Hours
Testing Location: Acute Non-Respiratory Building on Patch Barracks (trailer located next to the Health Clinic)
Effective Mar. 1: Please note the appointment requirement and specific timeframes for testing
Operating Hours: Monday through Friday (except federal holidays)
8:00 – 9:00 a.m.: Active Duty (Symptomatic or Identified Partial/Unvaccinated Close
Contact) and DoD ID cardholders on official travel orders (must have copy of orders)
9:00 – 11:00 a.m.: 
Any DoD ID cardholder who is:
➤ Symptomatic;
➤ Identified as a partially vaccinated close contact; and/or has a
➤ POSITIVE antigen test (bring test or result paperwork with you)
---
On-post mask wear
Fully vaccinated personnel, as defined in garrison guidelines, are no longer required to wear face coverings on USAG Stuttgart installations, except in designated areas, from Mar. 2, 2022.