By USAG Stuttgart Public Affairs
The Army Maintenance Activity application is your tool to submitting and monitoring a work order. Registration is straightforward and the system is designed to be user friendly, but to help you step off on the right direction here are some tips and tricks on how to use ARMA.
ACCESS
Use of the ARMA application requires either user registration/verification or CAC login.
Required customer information includes:
• Email address
• Phone number
• Location/building
• Unit
• If the customer is registering on their personal device, a military sponsor must validate your request via email. Military spouses may use their husband/wife as their military sponsor.
• Customers may define their ARMA notification preferences as email, text message, or both.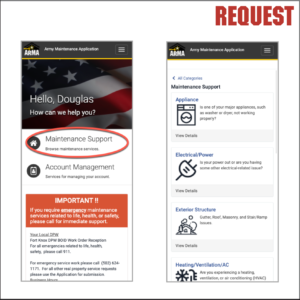 Request
• Maintenance requests exist for the most common maintenance repairs, including plumbing, electrical, HVAC, broken glass, among others.
• Please be detailed in identifying the location of the issue, including the room or apartment number, if applicable.
• Please be detailed in the description of the issue as this will expedite the repair process.
• Please include one or more photographs of the issue. Statistically, repair requests with contextual photographs are being completed quicker than those without photos.
Account
• Multiple accounts may be linked into a single group (or "household") in the Account Management section of the ARMA application so that all members of the group have visibility into any open maintenance requests.
• A primary account (or "head of household") must be identified when establishing an account group. After establishing the group, the primary account must add (or remove) the members of the group.
• When a member of a group changes units or locations, all members of the group will also be updated accordingly.
Review
• A list of all of your open maintenance requests is available at the bottom of the home page of the application for easy reference. Click the case number to view the details about your open maintenance request.
• You can use Activity text box when viewing a case to provide comments or inquiries back to the DPW. Any comments or questions from the DPW clerks will be readily visible just below the input text box.
• The paperclip can be used to add additional photos or attachments to your maintenance request.
ArMA – Registration Tips and Walkthrough
Additionally a tutorial on how to reset your password can be found here: