by USAG Stuttgart Public Affairs
Click here to view instructions on preparing a click-and-ship label or customs forms online (including APO to APO, on the last page).
Postal appointments will be temporarily phased out and in-person counter service will be limited to pre-prepared parcels in new COVID-related measures being implemented by the USAG Stuttgart Directorate of Human Resources (DHR).
DHR, which operates mail services in the community, issued the following statement:
Due to the fact that the Army Post Offices (APOs) are not able to meet the community's need with appointments, and for the safety of the community and postal team, we will only accept parcels that are prepaid "Click and Ship" or have pre-printed customs forms starting Monday, April 6, 2020.  All parcels must be completely sealed with tape and prepared for mailing prior to being brought to the Post Office.
Appointments scheduled on and after April 6 will be canceled, and affected customers will receive notifications.
Hours of Operation and Red/White/Blue Team Arrangement
UPDATE, 5/20: CMR Package Pickup remains on the Red/White/Blue schedule, even as Commissaries and PX phase out its use
The APOs, where customers send mail, are not currently part of the Red, White, and Blue group shopping concept introduced by Col. Jason Condrey, garrison commander, on March 29. However, parcel pickup from Community Mail Rooms does fall under that arrangement, and customers are asked to observe the designated days of their assigned group when using the service.
APO Hours: 10am-2pm
Panzer (Mon, Wed)
Patch (Tues, Thurs)
Kelley (Wed, Fri)
Army Post Offices are currently open from 10:00 a.m. to 2:00 p.m. at Panzer Kaserne (Mondays and Wednesdays), Patch Barracks (Tuesdays and Thursdays), and Kelley Barracks (Wednesdays and Fridays). The Robinson Barracks APO is temporarily closed.
Kelley, Patch, Panzer, Robinson CMRs (Package pickup hours)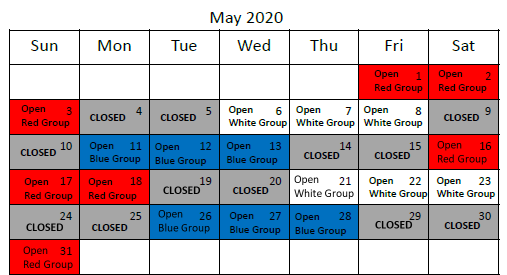 GROUP-ASSIGNED Weekdays (check dates above): 10:00am-1:00pm and 3:30pm-5:30pm
GROUP-ASSIGNED Weekends (check dates above): 9:30am-3:30pm
Simply checking a mailbox without picking up a package can be done anytime without regard to assigned days. Remember to practice physical distancing by staying 2m/6ft from other customers.
The COVID-19 situation and associated service changes continue to develop rapidly. Stay up-to-date by following the USAG Stuttgart Facebook page, downloading the mobile app (USAG Stuttgart in your iOS or Android app store), and checking the Stuttgart Citizen online (especially the COVID-19 updates page).