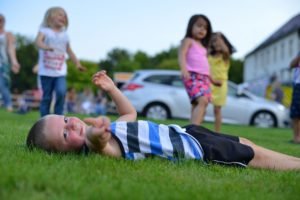 USAG Stuttgart Public Affairs Office
One of the top things on the minds of the entire family during a permanent change of station move is the new residence. Where will we live? How big will it be? What's the neighborhood like?
For those coming to Stuttgart, the answers to these questions can vary widely.
Approximately 30 percent of the Stuttgart military community lives in the 1,300 on-base housing units, with the remaining 70 percent residing on the economy.
On-post family housing units throughout Stuttgart are Stairwell style apartments ranging from two to five bedrooms. They are located on Panzer Kaserne, Kelley, Robinson, and Patch Barracks. Most five bedroom units are located on Kelley Barracks.
In-home amenities for on-base housing include: a laundry room with U.S. appliances for each unit, individual storage space, and 110 and 220-volt outlets for both U.S. and German appliances.
Community services include: fitness centers, a club for social events, elementary, middle and high schools, and libraries within walking distance.
Upon receipt of permanent change of station orders, uniformed members and U.S. government civilians are strongly encouraged to contact the USAG-Stuttgart Central Processing Facility. Many in-processing tasks can be started before arriving in Germany. Email CPF at usarmy.stuttgart.id-europe.mbx.cpf-in-processing@mail.mil.
Off-Post Housing
For those living off base, the variety of homes is nearly endless. Everything from modern homes and apartments with art nouveau architecture, to centuries-old half-timber converted barns and everything in between are available here. While rental prices throughout the area vary slightly, as a general rule of thumb the areas closer to Stuttgart or Böblingen are higher in rent. Those properties located further out in the suburbs and countryside tend to be lower in rent and larger in size.
There are many home types in Germany.  Apartments, penthouses, maisonette apartments (which are two-floored apartments), town-houses, duplexes and free-standing houses can be found for rent. Larger homes can be more difficult to find, but apartments, townhouses, and duplexes are readily available and are generally less expensive.
The cost of rent needs to align with a service member or civilian's overseas housing allowance rate or living quarters allowance: the cost of additional rent is an out-of-pocket expense. Financial overseas housing entitlements are listed on the Department of Defense overseas allowance calculator webpage at www.defensetravel.dod.mil.
Housing referral services
The Housing Referral Office offers home-finding services to U.S. government civilians and service members who are authorized to live off post. (Contractor personnel are not eligible for housing referral services in accordance with Army Regulation 420-1, "Army Facilities Management.")
Pervin Estates is the housing referral contractor. The office manages the HOMES.mil listings website and provides up to three escorted home tours, home inspections and individual counseling to discuss rental units found on HOMES.mil.
All homes listed on HOMES.mil guarantee a furnished kitchen and light fixtures. Be aware that homes found on other home rental websites as they may not include kitchen cabinets, appliances, or light fixtures and some require payment of a realtor fee.
For USAG-Stuttgart Housing contact information and a list of services, go to the USAG Stuttgart website or contact the Housing Customer Service Desk: +49 (0)964170596-2230 DSN: 596-2230.