By Holly DeCarlo-White
USAG Stuttgart Public Affairs Office
In Stuttgart, the A in Army Family Action Plan, or AFAP, really stands for "All-Services" Family Action Plan as our community is made-up of personnel and family members from all branches of service, and includes a large civilian workforce.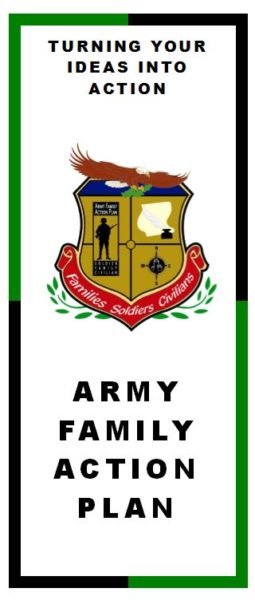 What is AFAP?
The AFAP program began more than 30 years ago, created by spouses, with the intent of bringing quality-of-life issues to leadership for action. Every issue submitted is addressed at an annual forum and responded to.
Who can participate? 
All U.S. Department of Defense ID cardholders living and working in Stuttgart can submit quality-of-life issues to be addressed by garrison leadership. Issues can be submitted year-round. The deadline for items to be reviewed in the 2017 forum is Oct. 6. Issues submitted after Oct. 6 will be reviewed at the next years AFAP forum. 

Delegates are requested from each branch of service, including spouses, from various commands to attend the forum, discuss the issues together, and share ideas for resolutions at the local level. Valid issues that reach beyond local level capability are shared with the region, then with the DOD. The next forum is Nov. 8, hosted by Army Community Service (ACS) on Panzer Kaserne.
What can be accomplished?
This grassroots program has generated thousands of regulatory changes around the world. Read more about some of the issues submitted in 2016.
Following the forum, delegates present all of the prioritized issues to the garrison commander for review and resolution implementation. Items that cannot be responded to locally are sent forward to the region level for review and response. A recap of each issue and resolution is published for the community by the garrison Public Affairs Office.
Examples of changes through AFAP:
The Army Family Readiness Program was established
Unlimited Commissary Privileges for Reserve Component
Programs like Exceptional Family Member Program (EFMP), Army Family Team Building (AFTB), and Better Opportunities for Single Soldiers (BOSS) were born
Distribution of Montgomery GI Bill Benefits to Family Members
Dental and Vision Insurance Coverage for Federal Employees
What's the difference between AFAP issue submission and ICE?
Issues submitted through AFAP concern the entire population living and working within USAG Stuttgart. Interactive Customer Evaluation (ICE) comments are single incidents, concerns and feedback that affect individuals, vs. the community at large.
How to submit Stuttgart community issues

Complete the form and submit it via email to ACS.
Complete the form in-person at ACS, Building 2915, Panzer Kaserne
Register online and submit issues at https://www.myarmyonesource.com
Organization volunteers, Family Readiness Group leaders and personnel may also volunteer to lead issue collection within their units. Contact ACS to get started at DSN: 431-3362/civ. 07031-15-3362.
Internal Garrison Workforce improvement ideas
Submit issues and solutions for process improvements internally in any area of the garrison. USAG Stuttgart workforce are encouraged to submit process improvements through the Knowledge Management Working Group via the garrison SharePoint (CAC access only), here.