By Holly DeCarlo-White
USAG Stuttgart Public Affairs Office
The U.S. Army Garrison Stuttgart Army Family Action Plan (AFAP) program gives community members across all branches of service in the Stuttgart military community a voice in shaping their quality of life on-post locally, and across the Department of Defense.
For more than 30 years, the AFAP has been making a positive difference with more than 698 issues presented and thousands of regulatory changes through grass-root garrison forums around the world.
Stuttgart's Army Community Service organizes the annual AFAP Forum and solicits issue collection throughout the year. The FY17 Forum, held in November 2016, generated six issues and concerns for garrison leadership review and resolution, listed in no certain order below.
Issue: Safety and cleanliness of baby items available in the lending closet.
Scope: Army Community Service cannot clean or ensure the safety of baby items in the Lending Closet. Per AR 608-1, Lending Closet should include high chairs, child car seats, playpens and cribs. ACS cannot verify safety of car seats and items are being returned soiled with no way of cleaning them. ACS must deem items unusable and throw them out; wasting funds.
Resolution: ACS is distributing new installation and cleaning tip guides available with each item and available for download on the Family & MWR website and stuttgartcitizen.com. The Lending Closet has also ordered new compactable strollers and car seats. Community members must sign a 'Car Seat Waiver' form upon returning the items verifying the borrowed car seats were not involved in any vehicle accidents.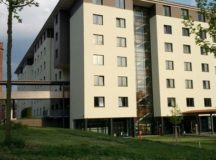 Issue: Unsafe hill/walkway by the hotel bridge on Panzer Kaserne.
Scope: There are no steps by the bridge at the Panzer Hotel. If a guest wants to get to the lobby, they must climb down a hill or walk around the parking lot sidewalk to the entrance.
Resolution: The imprint going down the hill by the hotel bridge is due to water runoff and drainage. It is not meant to be a walking path. The Directorate of Public Works will install signage to alert and caution community members for their safety. The garrison command advises community members to use the sidewalks available to get to and from the hotel or any service location. Only Hotel guests may enter the hotel using their key access cards through the bridge.
Issue: Public Business Services on the installations.
Scope: There is no fax machine or copier on Patch Barracks for public use. Families must travel to Panzer to use the fax machine or copier at Army Community Service.
Resolution: Stuttgart Family and MWR are looking into adding Print/Copy/Fax services at the Patch Barracks Library for public use. The garrison Public Affairs Office also compiled and published a list of available public business services to help better inform community members.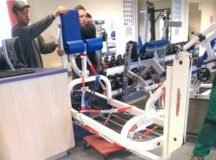 Issue: Fitness center hours of operation and equipment.
Scope: The condition of fitness centers is poor with outdated equipment, limited hours and broken saunas.
Resolution: Maintenance on basketball and racquetball courts took place from Oct. 2016 to April 2017 at all fitness center locations. New strength and cardio equipment was recently added in March on Patch Barracks. An outdoor fitness training area is also being added on Kelley Barracks. New equipment continues to arrive monthly to replace old or unusable items. Although the men's sauna is currently out-of-service on Patch Barracks, there are saunas available for male and female use on Panzer Kaserne and Kelley Barracks. The women's sauna is open on Patch Barracks. Fitness center hours of operation were consolidated in order to maintain four fitness center operations in Stuttgart, versus only one central fitness center location that the garrison is funded for. Hours were adjusted and personnel dispersed according to tracked facility usage via the Family and MWR swipe-in system. With the support of mission partners U.S. Africa Command and Marine Forces Europe and Africa, a plan is in progress to increase access to the fitness centers on Kelley Barracks and Panzer Kaserne with 24/7 swipe-entry capability. The completion date is to be determined.
Issue: Cost of Living Allowance (COLA) education.
Scope: COLA varies by branch and pay grade for enlisted service members and can be confusing without training.
Resolution: During in-processing, Army Community Service briefs available services and education offered by the Financial Readiness Program, which now includes COLA and other overseas entitlements.
Issue: Designated time for service members to address personal affairs OCONUS.
Scope: Service members stationed in overseas locations, especially single service members with children, have greater difficulty completing personal affairs during the duty day. This is due to several factors that may include: lack of leadership awareness of required in-processing or child registration needs that may exceed the allotted initial 10-day garrison in-processing; lack of leadership support due to unit's military operational tempo; host nation business hours are more limited in comparison to regular business hours the U.S.
Resolution: This issue was elevated for garrison command review as AFAP members believe it is worthy of U.S. Army Europe and Defense Department review. The garrison command team decided to respond to this issue at the local level. The command team will reinforce communication and in-processing requirements with mission partner leaders in support of the garrison mission priority to take care of people first and foremost. USAREUR offers one training holiday each month, scheduled on a regular duty day for service members to handle personal affairs. Garrison services and resources are open on training holidays. Some units also are successfully utilizing the Day of No Scheduled Activities (DONSA) or the Pay Day Activities practice, however, these additional days are scheduled at the individual commands discretion, communicated by their individual leadership.
Subscribe to stuttgartcitizen.com daily email updates for additional tips for service members to complete personal business easier in conjunction with their duty-day.
The next AFAP forum, scheduled Nov. 8. Community members in any branch of service in the Stuttgart military community, including civilians, are invited to attend and share quality of life improvement ideas prior to the event. Submit issues and suggestions online at Army OneSource or fill out an AFAP form at Army Community Service office located in Building 2915, 2nd Floor on Panzer Kaserne.
To join the AFAP committee, contact ACS at DSN: 431-3362 or civ. 07031-15-3362 for more information.
USAG Stuttgart workforce are encouraged to submit process improvements through the Knowledge Management Working Group via the garrison SharePoint (CAC access only), here.