By Alisha Pabon, Stuttgart High School
Special to The Stuttgart Citizen
A pet is a commitment that requires responsibilities for a long period of time.
Unfortunately, some members of the Stuttgart military community might be faced with problems associated with owning and caring for a pet long-term because of their ever-changing, fast-paced lifestyle. In the U.S. military, change occurs often and can become harder when animals are involved.
One of the toughest decisions to make as a service member, military family or DoD civilian can be having to give up a pet due to a move or last-minute duty assignment where bringing a pet is not possible.
The following information pertains to adoption, moving and traveling with (or without) pets.
Animal abandonment should not be taken lightly.
The "Tierheim"
Tierheim, (plural Tierheime) translates exactly to "animal home" and is the equivalent to an American shelter or pound. The availability is not always certain in the Tierheime and it would be beneficial to call beforehand to ensure they have a spot(s) available.
There are Tierheime in Stuttgart, Vaihingen, Böblingen, Ditzingen, Leonberg and Esslingen-. Many of them accept not only dogs, but cats, reptiles, and sometimes even horses. However, the downside is when a pet isn't adopted after a certain amount of time, euthanizing is the common result.
The Stuttgart Veterinary Treatment Facility on Panzer Kaserne advises those in search of a new pet to visit a Tierheim or seek those who may need to give up their pet first over adopting or purchasing from other sources.
A Tierheim is a place to place a pet up for adoption or find a new furry companion; it's also an opportunity to give back to the local community. For example, the Böblingen Tierheim is always open to donations. On its website, click the "Jetzt Spenden" link. There, the bank information for a money transfer will be available. Other shelters accept donations in this same manner as well, such as the Tierheim Stuttgart.
Tierheime, such as the shelter in Esslingen, give animal lovers the opportunity to sponsor an animal without the burden of bringing it home. To contribute, it cost a regular monthly donation of at least 12 euros. Greater financial donations, food, blankets and supplies are always also welcome.
The Stuttgart Community Spouses Club contributes annual welfare grants to local Tierheime to assist with costs incurred from Americans abandoning animals. Read more about the SCSC Welfare program.
The Stuttgart Community
Community members are also urged to look for new owners all over Stuttgart, including online. When putting any pet up for adoption, it is best to start in advance as soon as possible to find them the right home.
Unofficial Facebook groups, such as "Pups of Stuttgart" and "Stuttgart Friends/2.0" have more than 7,000 members. Additionally, various private groups by installation for Robinson, Patch and Kelley provide a platform to advertise to fellow community members. Other social media platforms, such as Instagram, Twitter and Snapchat, can provide a means to finding interested people wanting to adopt a pet. This way, community members can have a say in who their pet goes home with when giving up their animal for adoption.
According to its page, "Pups of Stuttgart" is for dog owners in the general Stuttgart area only.
From its start in 2011, the page "aims to be a helpful resource for primarily, but not exclusive to, military families," said Dianne Rapp Schwarz, a Facebook page admin.
The page is not intended for buying and selling any animals.
"Dog owners or dog lovers living specifically in the Stuttgart area or planning a move here are welcome to join! It's a great way to meet others and their furry friends to hike and get together too," said Schwarz.
Pet Sitters
 Community members going on vacation can advertise for a pet sitter for any length of time, too. Pet sitter's, on average, charge between, with a general range of $25 to $50, average is $37 a day. They may also set flat fees for long weekends or reoccurring pet care.
When going on a vacation or trip where animals are not welcome, it can be a struggle to find an alternative that doesn't cost an arm and a leg. Dog hotels are all over the Stuttgart region. A dog hotel provides all of the amenities to guarantee the animal will be comfortable without his owners. Prices vary depending on the hotel, but the idea remains the same. For cats, hotel options are also available (search Katzen hotel).
Kennels are also an alternative. There is a variety of kennels in the Stuttgart region, with search results available online in English. On German websites, when looking for the price, look for the word, "Preise."
There are ten boarding facilities recommended by the Stuttgart Veterinarian Clinic that can be located on its Facebook page.
Traveling with Pets
Before pets come on a trip, first check all of their requirements, especially when flying. All airlines have different policies and fees for bringing pets on board.
Pet passports are important to keep all crucial flying information in one place. According to Pet Travel, a website "committed to provide the most accurate and up-to-date information on traveling with a pet," when flying from the United States to the European Union (where pet passports are used) or just flying within the EU in general, the pet passport will consist of two main documents:, the Annex IV and APHIS 7001 forms. Each form is different for each country a person intends to visit. This should be completed by the pet's current veterinarian, and endorsed by the State Department of Agriculture veterinarian.
"Pet passports are required traveling in Europe. The pet passports can only be obtained at an off-post veterinarian clinic. All they are, are immunization records," said Sgt. Angela N. Safley, Public Health Activity Stuttgart Branch Veterinary Services, Noncommissioned Officer in Charge, Stuttgart Veterinary Treatment Facility.
According to The Animal and Plant Health Inspection Service website the pet's vaccination record must be attached to the certified Annex IV form. The vaccine record can also be referred to as the Rabies Certificate. Depending on the country, a pet must be checked for tapeworm. The Stuttgart Veterinary Treatment Facility on Panzer Kaserne cannot present a pet passport, but it can provide the necessary vaccinations needed.
Every country has different requirements. In order to not run into trouble, double-check them on specific pet travel websites, such as the Centers for Disease Control and Prevention website, for international pet travel. This website gives step-by-step information to ensure traveling occurs with no problems. Check it out here.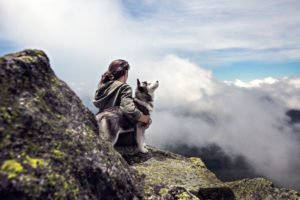 Before booking hotels with a pet, Safley advises to, "Double check the prices, and look out if the hotel requires extra immunizations."
At the end of the day, community members are heavily advised not to leave pets high and dry. Take the steps to ensure the well-being of a family member. Again, if moving out of Stuttgart, check with the local Tierheime; if nothing is available in any Stuttgart locations, then look at other cities nearby, such as Tübingen, Ulm, Karlsruhe and Heilbronn. These locations are all within the vicinity of Stuttgart. The Stuttgart Veterinary Treatment Facility Facebook page includes information about local veterinarians, online resource links, registration forms, and much more under "notes."
Reaching out to fellow Stuttgart military community members is a big step that will not only get the information out, but people are more inclined to help fellow families and service members.
For more information regarding moving with pets click here.
Editor's Note: Alisha Pabon is a senior at Stuttgart High School and is a part of the Career Practicum program for the garrison Public Affairs office. She is interested in majoring journalism and communications.