Post Tagged with: "employee"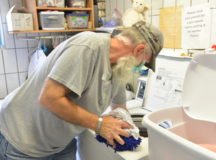 In 1975, 17-year-old Larry Fredrick started his career in government service by enlisting in the Army.
Story and Imagery by Rebecca Castellano U.S. Army Garrison Stuttgart Stuttgart, Germany – Emergency funding allowed U.S. Army Garrison Stuttgart to fill crucial job openings during the COVID-19 pandemic. As the coronavirus impacted garrison services, officials found personnel shortages at community mail rooms, garrison operations and the public affairs office….