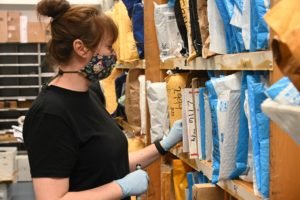 Story and Imagery by Rebecca Castellano U.S. Army Garrison Stuttgart
Stuttgart, Germany – Emergency funding allowed U.S. Army Garrison Stuttgart to fill crucial job openings during the COVID-19 pandemic.
As the coronavirus impacted garrison services, officials found personnel shortages at community mail rooms, garrison operations and the public affairs office. Col. Jason Condrey, USAG Stuttgart commander, saw the move as a way to "get people into the fight in a way that is more than volunteering and has the opportunity to generate some additional income."
Condrey advertised the job openings to the community during an April 1 Facebook livestream.
"We can bypass USAJobs, do an initial screening and have a conversation and you can be getting paid for your work as quickly as you were willing to volunteer."
Sarah Evans, a new Patch post office employee, jumped at the opportunity.
"Everyone knows a GS position can be a great way to have a career as a military spouse but getting in can be daunting," explained Evans. "So, this was a great chance for me to get a foot in the door."
Evans weighed the pros and cons of the position before applying.
"It's a high traffic environment so the risk of exposure goes up," said Evans. "But I know how important this service is to the community, especially now, and I'm lucky enough not to be considered high risk so I wanted to help."
Evans said her first week on the job was a busy but rewarding one.
"We're moving nonstop from open to close every day and by the end of the week I'm exhausted," said Evans. "But it feels good to stay busy and know I'm contributing to my community during these difficult times."
Garrison public affairs, a team that oversees the Stuttgart Citizen, Facebook livestreams and the garrison's mobile app, was also in need of some help. Elizabeth Celtrick, a community member who had previously worked for the Army and had public affairs skills, joined the team and immediately set to work.
"I actually couldn't believe my good fortune when I saw that one of the openings was with the Public Affairs Office," said Celtrick. "Little did I image when I heard about the jobs on Facebook that less than a month later I would be working behind the scenes to support those very garrison livestreams and other information sources, which have meant so much to me and my family during the COVID-19 crisis."