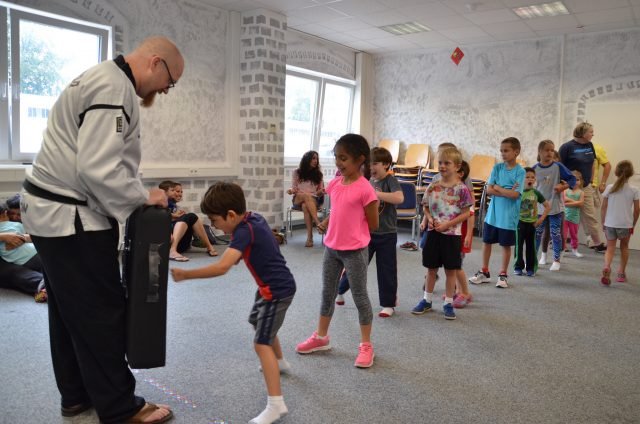 By Holly DeCarlo-White
USAG Stuttgart Public Affairs Office
Patch Library hosted free self-defense classes on July 23 as part of the library's summer reading program. The Department of Defense summer reading theme this year is "Read – For the Win!" which celebrates sports, physical activity, and achievement. Programs at the Patch Library have centered around fun physical activities, such as a Story Book Obstacle Course for children and the Chocolate Olympics for teens.
"One of our excellent volunteers, Dawn Moynihan, made a connection between her daughter's on-post Taekwondo class and our active summer reading theme," said Lauren Hall, librarian at the Patch Library.
The library then connected with Stuttgart community's resident Taekwondo instructor Philip Lewellen, who offered to teach the important topic of self-defense.
Self-defense classes were offered back-to-back to three age groups; 5-8, 9-12 and 13-18 and up.
"Self-defense is a great physical activity and good knowledge to acquire for all age groups," said Hall.
View more photos here.
To get information on upcoming events and activities at the Patch Library, contact DSN: 430-5232/civ. 0711-680-5232.
About Taekwondo
Taekwondo is a "total learning" activity. Lessons are tailored to the respective age and skill levels. Participants begin by practicing basic patterns and forms, board breaking, kicking, blocking, striking, and punching. These fundamental skills increase physical coordination, flexibility, and balance. Taekwondo develops athletic abilities and self-awareness, and improves capabilities in self-defense while improving calmness and concentration. Taekwondo builds self-confidence and self-esteem and encourages goal orientation.
For information on child and adult class registration through Family and Morale, Welfare and Recreation, contact DSN: 421-2543/civ. 0711-729-2543 or visit http://stuttgart.armymwr.com.