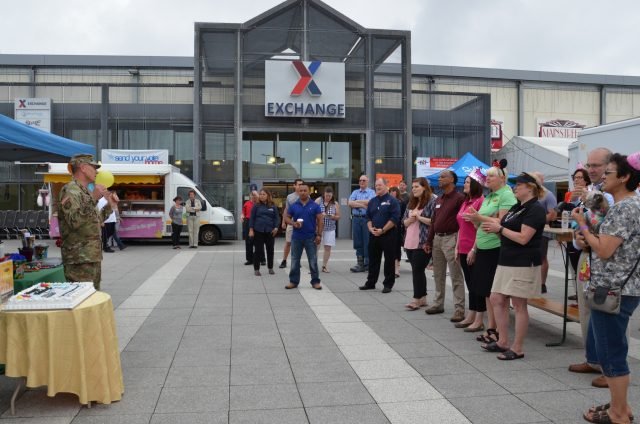 By Holly DeCarlo-White
USAG Stuttgart Public Affairs

On July 23, the Stuttgart military community celebrated two birthdays at the Main Exchange on Panzer Kaserne: 51 years of Army Community Service and 121 years of Army & Air Force Exchange Service. The event was also an opportunity for community members to meet ACS and AAFES staff, and learn more about services and programs offered in Stuttgart.
The U.S. Army Garrison Stuttgart command team, staff and community members attended the celebration. Col. Glenn K. Dickenson, USAG Stuttgart commander, opened the event thanking AAFES and ACS personnel and volunteers for their dedicated service to the Stuttgart military community.
Stuttgart's ACS was recently selected as the Army-wide recipient of the Army Community Service Installation Award of Excellence for 2015, an annual award given by the Installation Management Command. In addition, Kristine Bell, former information, referral and follow-up program manager, was selected as the Army-wide recipient of the Army Community Service Individual Award of Excellence.
During his speech, Dickenson also emphasized AAFES dividends that are returned directly to support the military community. He recently met with AAFES Deputy Director Mike Immler during a visit to Stuttgart earlier this month.
Historically, for every dollar earned, 67 cents comes back to the military community through the Family and Morale, Welfare and Recreation dividend, according to Immler. Last year, sales at the Panzer Exchange generated more than $1 million on behalf of MWR programs.
In closing, Dickenson led staff and community members in a rousing sing-a-long of "Happy Birthday."
View the event photos here.
Learn more about ACS programs offered to all branches of service and ID cardholders in Stuttgart, here.