By Holly DeCarlo-White
USAG Stuttgart Public Affairs Office
As vocational skill programs have dwindled in public schools across the U.S., according to studies conducted by the National Center for Education Statistics, Stuttgart High School continues to provide students hands-on career training experience through their annual Career Practicum program.
Stuttgart High School's Career Practicum program is a one-to-three-credit course designed to offer students opportunities to explore career goals practically, in a real work setting. It is a cooperative effort depending entirely upon a collaboration between students, the high school, and participating local employers. The school aids students in setting up a partnership with a variety of agencies and offices within the garrison footprint to help them meet their individual learning goals for the future.
"The students get to leave the school environment and see what is expected of them in real situations of employment," said Winnie Zekel, a SHS teacher and the Career Program program coordinator.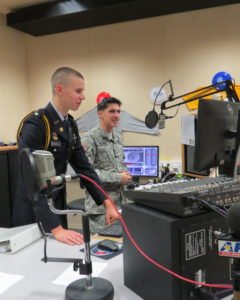 As coordinator, Zekel recruits agencies and organizations to participate, places students at the training sites and monitors their progress which includes counseling the student and employer during the semester. Some opportunities and job areas include but are not limited to: engineering, postal services, food service and preparation, child care, television or radio, journalism for The Citizen online news, clerical administrative support, and health and dental.
"I try to pair people up with placements pertaining to what they want to do," she said.
Those efforts have not been in vain. Read just a few of the reviews from past CP students here.
Zekel advises that because a Career Practicum student is expected to make decisions, accept responsibilities and show initiative, the end result is a student who better understands who he or she is and what career fields to consider.
Following participation in the program, students are able to use the valuable contacts gained on-the-job for letters of reference for college or future employment.
Students interested in signing up for the Career Practicum Program in the upcoming school year should contact Ms. Zekel at Stuttgart High School or call civ. 07031-15-5573.