By USAG Stuttgart Public Affairs Office & Schools Liaison Office
Stuttgart community schools — three elementary, one middle and one high school — are part of the Department of Defense Dependents Schools Bavaria District. Elementary schools are located on Panzer Kaserne and Robinson Barracks, the middle school at Patch Barracks, and the high school at Panzer Kaserne.
Each elementary school serves a given geographic area, while the middle and high schools serve the entire community. The schools offer a variety of programs. The curriculum is the standard Department of Defense Education Activity program, comparable to schools throughout the U.S. Stuttgart community schools are accredited by the North Central Association Commission on Accreditation and School Improvement.
For families residing off base, bus services are offered in local communities throughout the six counties of the Stuttgart metropolitan area. The school information that follows includes lists of the towns and cities served by each school to help families identify which schools their children will attend. For information on bus schedules and pick-up sites, visit or call the schools directly.
All of the Stuttgart schools offer school meal programs, including free and reduced meals. The program is run by the Exchange. Parents can setup an account, pay for and monitor the use their children's school meal accounts at www.aafes.com/about-exchange/school-lunch-program. Information on applying for free and reduced meals can be obtained directly from the schools.
The school year runs from September to mid-June with high school senior graduation, the first Wednesday in June. Schools have the same two week winter break from in December and a one-week spring break in April.
School registration is available for incoming families at any time. Scheduled registration periods and pre-registration are set in April each year to help make the process go faster. Parents should contact the school serving their area for registration information. Most schools also offer newcomer orientations approximately a week before the start of classes, so parents are encouraged to contact the schools and start the registration process early. Child, Youth and School Services (CYSS) partner with the Hub Youth Center on Patch Barracks and the School Liaison Office to host teen orientation also giving youth an introduction to Stuttgart, and an opportunity to meet others in their age group.
Stuttgart garrison schools pride themselves on active Parent Teacher Student Associations (PTSA) and emphasize the partnership between the school and parents.
Stuttgart High School
The newly constructed school complex on Panzer Kaserne serve a student population of about 745 students with 55 teachers and administrators.
The school offers a variety of courses including English (advanced placement and honors courses are also offered), mathematics (algebra through advanced placement calculus), science (physics, chemistry, anatomy, biology, etc.), foreign languages (German, French, Spanish), computer courses, fine arts (humanities, band, art, chorus), history (government, U.S. history, etc.), business and career and technical electives, as well as other activities. The school has an active Junior Reserve Officer Training Corps program, as well as extracurricular programs in football, golf, tennis, cross-country running, volleyball, wrestling, basketball, rifle marksmanship, swimming, cheerleading, track, soccer, baseball, softball and military drill team.
This school runs on a split eight period schedule with alternating days. Gold Days are periods one through four, and Black Days are periods five through eight.
Stuttgart High School boasts the largest number of AP course offerings, and the highest average AP scores in DODEA, according to school officials. The wrestling team has won multiple European Championships, as well as Piranhas swim team that regularly brings home medals. The rifle team has also finished as one of the nation's top teams over the past five years.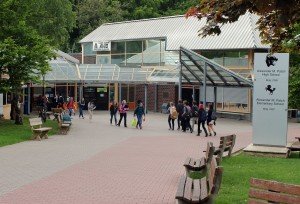 Patch Middle School
Located at Montana Street 1 on Patch Barracks,  this is the only middle school serving the entire Stuttgart garrison.
The school offers a variety of courses for grades six to eight.
Extracurricular activities vary from year to year including drama, art, yearbook, video, music, and science clubs, as well as space camp and intramurals. This school runs on an alternating daily schedule with A Days and B Days.
Stuttgart Elementary School
Stuttgart Elementary School, at the new school complex on Panzer Kaserne, has a student population of about 630, with a staff of 70 teachers and administrators.
This school serves students in kindergarten through grade five.
Patch Elementary School
Temporarily located in Building 2918 on Panzer Kaserne, Patch Elementary School serves a student population of about 650 students with 85 teachers and administrators. The school is set to return to its previous location on Patch Barracks once a renovation project is complete. The construction is slated to begin this summer of 2017.
This school offers the standard K-5 curriculum, opportunities for gifted and talented students and a robust special needs program. The mascot is the stallion.
Extracurricular activities vary from year to year, including running, yearbook, art and robotics clubs, as well as yoga, chorus, dance and student council.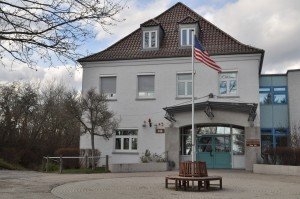 Robinson Barracks Elementary School
Robinson Barracks Elementary is in Building 148 on Robinson Barracks servicing a student population of about 320 in grades K-5.
The school offers also hosts various extracurricular activities.
Contact the SLO for all your school needs:

For information about which school your child will attend, how to register, how to get involved in the schools and more, contact the School Liasion Officers at DSN: 430-7465/civ. 0711-680-7465. Visit the SLO webpage for more information about the schools and DODEA programs here.
Elementary students in the following towns and villages attend Stuttgart Elementary School:
Aich (Aichtal), Aichtal, Aidlingen, Altdorf (Kreis BB), Böblingen, Breitenstein (Weil/Schönbuch),Dagersheim (Böblingen), Darmsheim (Sindilfingen), Dätzingen (Grafenau), Dettenhausen, DEufringen (Aidlingen), Diezenhalde (Böblingen), Döffingen (Grafenau), Ehningen, Eichholz (Sindelfingen), Galgenberg (Böblingen), Gärtringen, Glashütte (Waldenbuch), Goldberg (Sindelfingen), Grafenau, Grötzingen (Aichtal), Hasenhof (Waldenbuch), Häslach (Walddorfhäslach), Herrenberg, Hildrizhausen, Hinterweil (Sindelfingen), Holzgerlingen, Hulb (Böblingen), Kalkofen (Waldenbuch), Kapellenberg (Grafenau), Liebenau (Waldenbuch), Neuenhaus (Aichtal), Neuweiler (Weil/Schönbuch), Magstadt, Magstadt, MAichingen (Sindelfingen), Malmsheim (Renningen), Merklingen (Weil der Stadt), Nufringen, Panzer Housing (Böblingen), Ramtel (Leonberg), Rauher Kapf (Böblingen), Renningen, Rohrau (Gärtringen), Rudolfshöhe (Aichtal), Schafshausen (Weil der Stadt), Schaichhof (Weil/Schönbuch), Schönaich, Sindelfingen, Steinenbronn, Tannenberg (Böblingen), Waldburg (Böblingen), Walddorf (Walddorfhäslach), Walddorfhäslach, Waldenbuch, Weil der Stadt, Weil im Schönbuch,
Elementary students in the following towns and villages attend Patch Elementary School:
Bernhausen (Filderstadt), Bonlanden (Filderstadt), Botnang (Stuttgart), Büsnau (Stuttgart), Dürrlewang (Stuttgart), Echterdingen (L.E.), Eltingen (Leonberg), Fasanenhof (Stuttgart), Filderstadt, Forchenrain (Gerlingen), Gartenstadt (Leonberg), Gerlingen, Harthausen (Filderstadt), Höfingen (Leonberg), Kaltental (Stuttgart), Leinfelden (L.E.), Leinfelden-Echterdingen, Leonberg, Möhringen (Stuttgart), Musberg (L.E.), Neuhausen a.d. Fildern, Oberaichen (L.E.), Patch Barracks (Stuttgart), Plattenhardt (Filderstadt), Rohr (Stuttgart), Schillerhöhe (Gerlingen), Sielmingen (Filderstadt), Sonnenberg (Stuttgart), Stetten (L.E.), Unteraichen (L.E.), Vaihingen (Stuttgart), Warmbronn (Leonberg), Wolfschlugen,
Elementary students in the following towns and villages attend Robinson Barracks Elementary School:
Aldingen (Remseck/Neckar), Asemwald (Stuttgart), Asperg, Bad Cannstatt (Stuttgart), Beihingen (Freiberg/Neckar), Bergheim (Stuttgart), Birkach (Stuttgart), Burgholzhof (Stuttgart), Degerloch (Stuttgart), Denkendorf, Ditzingen, Eglosheim (Ludwigsburg), Fellbach, Feuerbach (Stuttgart), Frauenkopf (Stuttgart), Freiberg (Stgt), Freiberg am Neckar, Gablenberg (Stuttgart), Gaisburg (Stuttgart), Gehenbühl (Gerlingen), Geisingen (Freiberg/Neckar), Giebel (Stuttgart), Grenadier Housing (Stgt), Grünbühl (Ludwigsburg), Hallschlag (Stuttgart), Hausen (Stuttgart), Hedelfingen (Stuttgart), Hegnach (Waiblingen), Heslach (Stuttgart), Heumaden (Stuttgart), Heutingsheim (Freiberg/Neckar), Hirschlanden (Ditzingen), Hofen (Stuttgart), Hoffeld (Stuttgart), Hoheneck (Ludwigsburg), Hohenheim (Stuttgart), Hohenstange (Tamm ), Kallenberg (Korntal-M.), Kelley Barracks (Stuttgart), Kemnat (Ostfildern), Killesberg (Stuttgart), Korntal (Korntal-Münchingen), Korntal-Münchingen, Kornwestheim, Lederberg (Stuttgart), Ludwigsburg, Luginsland (Stuttgart), Markgröningen, Mitte (Stuttgart), Möglingen, Mönchfeld (Stgt), Mühlhausen (Stgt), Münchingen (Korntal-M.), Münster (Stgt), Neckargröningen (Remseck/N), Neckarrems (Remseck/Neckar), Nellingen (Ostfildern), Neugereut (Stuttgart), Neuwirtshaus (Stuttgart), Nord (Stuttgart), Obertürkheim (Stuttgart), Oeffingen (Fellbach), Ossweil (Ludwigsburg), Ost (Stuttgart), Ostfildern, Parksiedlung (Ostfildern), Pattonville (Remseck/Neckar), Pflugfelden (Ludwigsburg), Plieningen (Stuttgart), Remseck/Neckar, Riedenberg (Stuttgart), Robinson Barracks (Stgt), Rohracker (Stuttgart), Rommelshausen (Kernen i.R.), Rot (Stuttgart), Rotenberg (Stuttgart), Ruit (Ostfildern), Scharnhausen (Ostfildern), Schmiden (Fellbach), Schönberg (Stuttgart), Schwieberdingen, Sillenbuch (Stuttgart), Sommerrain (Stuttgart), Stammheim(Stgt), Steckfeld (Stuttgart), Steinhaldenfeld (Stuttgart), Süd (Stuttgart), Tamm, Uhlbach (Stuttgart), Untertürkheim (Stuttgart), Waiblingen, Wangen (Stuttgart), Weilimdorf (Stuttgart), West (Stuttgart), Wolfbusch (Stuttgart), Zazenhausen(Stgt), Zuffenhausen (Stuttgart),