Robinson Barracks Elementary/Middle School in Building 148 on Robinson Barracks services a student population of about 710, with about 80 teachers and administrators.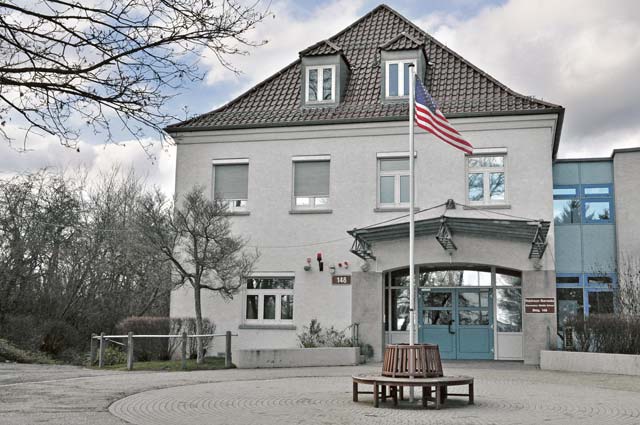 The school offers the standard Department of Defense Education Activity curriculum for kindergarten to grade eight, and also hosts extracurricular activities including drama, art, yearbook, video, music, and science clubs, as well as space camp and intramurals.
The school operates on an A and B day schedule with four periods each day. The school day begins at 7:50 a.m. and ends at 2:30 p.m.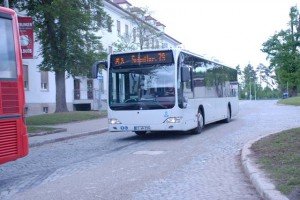 The school opened in 1953 in a building that previously held a military hospital for U.S. forces after World War II. The school has undergone several changes to its academic structure over the years alternating between strictly an elementary school and an elementary and middle school at various times. Renovations and modernizations occurred in the late eighties and early nineties. After having been an elementary school for many years, in 2006 the school received its current designation as Robinson Elementary/Middle School.
Contact Information
Mailing Address: Unit 30401, APO AE 09107
Telephone: DSN 430-9337 • Civ. 0711-680-9337
Website: www.rbar-es.eu.dodea.edu/index.html
Principal: Shelia Smith
Assistant Principal: Tessa Moss-Beaman
Guidance Counselor 7th and 8th: Aprile Evans
Guidance Counselor 5th and 6th: Sharon Gilbert
Guidance Counselor K through 4th: Diana Fries
Cities/villages served by RBEMS

Elementary and Middle:
Aldingen (Remseck/Neckar)
Asemwald (Stuttgart)
Asperg
Bad Cannstatt (Stuttgart)
Beihingen (Freiberg/Neckar)
Bergheim (Stuttgart)
Birkach (Stuttgart)
Burgholzhof (Stuttgart)
Degerloch (Stuttgart)
Denkendorf
Ditzingen
Eglosheim (Ludwigsburg)
Fellbach
Feuerbach (Stuttgart)
Frauenkopf (Stuttgart)
Freiberg (Stgt)
Freiberg am Neckar
Gablenberg (Stuttgart)
Gaisburg (Stuttgart)
Gehenbühl (Gerlingen)
Geisingen (Freiberg/Neckar)
Giebel (Stuttgart)
Grenadier Housing (Stgt)
Grünbühl (Ludwigsburg)
Hallschlag (Stuttgart)
Hausen (Stuttgart)
Hedelfingen (Stuttgart)
Hegnach (Waiblingen)
Heslach (Stuttgart)
Heumaden (Stuttgart)
Heutingsheim (Freiberg/Neckar)
Hirschlanden (Ditzingen)
Hofen (Stuttgart)
Hoffeld (Stuttgart)
Hoheneck (Ludwigsburg)
Hohenheim (Stuttgart)
Hohenstange (Tamm )
Kallenberg (Korntal-M.)
Kelley Barracks (Stuttgart)
Kemnat (Ostfildern)
Killesberg (Stuttgart)
Korntal (Korntal-Münchingen)
Korntal-Münchingen
Kornwestheim
Lederberg (Stuttgart)
Ludwigsburg
Luginsland (Stuttgart)
Markgröningen
Mitte (Stuttgart)
Möglingen
Mönchfeld (Stgt)
Mühlhausen (Stgt)
Münchingen (Korntal-M.)
Münster (Stgt)
Neckargröningen (Remseck/N)
Neckarrems (Remseck/Neckar)
Nellingen (Ostfildern)
Neugereut (Stuttgart)
Neuwirtshaus (Stuttgart)
Nord (Stuttgart)
Obertürkheim (Stuttgart)
Oeffingen (Fellbach)
Ossweil (Ludwigsburg)
Ost (Stuttgart)
Ostfildern
Parksiedlung (Ostfildern)
Pattonville (Remseck/Neckar)
Pflugfelden (Ludwigsburg)
Plieningen (Stuttgart)
Remseck/Neckar
Riedenberg (Stuttgart)
Robinson Barracks (Stgt)
Rohracker (Stuttgart)
Rommelshausen (Kernen i.R.)
Rot (Stuttgart)
Rotenberg (Stuttgart)
Ruit (Ostfildern)
Scharnhausen (Ostfildern)
Schmiden (Fellbach)
Schönberg (Stuttgart)
Schwieberdingen
Sillenbuch (Stuttgart)
Sommerrain (Stuttgart)
Stammheim (Stgt)
Steckfeld (Stuttgart)
Steinhaldenfeld (Stuttgart)
Süd (Stuttgart)
Tamm
Uhlbach (Stuttgart)
Untertürkheim (Stuttgart)
Waiblingen
Wangen (Stuttgart)
Weilimdorf (Stuttgart)
West (Stuttgart)
Wolfbusch (Stuttgart)
Zazenhausen (Stgt)
Zuffenhausen (Stuttgart),
NOTE: Robinson Barracks Elementary/Middle School also serves middle school students in the Patch Elementary zone, except for Gaertingen, Ehningen, and Nufringen.