Located in Building 2387, Patch Elementary School serves a student population of about 650 students, with 85 teachers and administrators.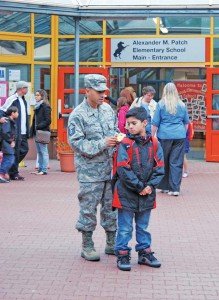 This school offers the standard DODEA curriculum for kindergarten to grade 5, including a robust special needs program for both students with special needs, and gifted and talented students.
Although extracurricular activities vary from year to year, in the 2013-2014 school year, Patch offered running club, yearbook club, chorus, art club, robotics club, yoga, just dance and student council.
Patch Elementary School was built in 1979, and its mascot is the Stallion. Plans are in the works for a new school in the future. The school prides itself on a very active Parent-Teacher Association and School Advisory Committee and emphasizes the partnership between the school and parents.
School runs from 7:55 a.m. to 2:30 p.m. Monday through Friday.
Contact Information
Mailing Address: Unit 30401, APO AE 09107
Tel. DSN: 430-5200 • Civ. 0711680-5200
Website: www.patch-es.eu.dodea.edu/
Principal: Nancy Hammack
Assistant Principal: Sheree Foster
Guidance Counselors: Jan Kuenning & Jann Richter
Cities/towns served by PES
Aidlingen
Bernhausen (Filderstadt)
Bonlanden (Filderstadt)
Botnang (Stuttgart)
Büsnau (Stuttgart)
Dagersheim (Böblingen)
Darmsheim (Sindelfingen)
Dätzingen ((Grafenau)
Deufringen (Aidlingen)
Döffingen (Grafenau)
Dürrlewang (Stuttgart)
Echterdingen (L.E.)
Ehningen
Eichholz (Sindelfingen)
Eltingen (Leonberg)
Fasanenhof (Stuttgart)
Filderstadt
Forchenrain (Gerlingen)
Gartenstadt (Leonberg)
Gärtringen
Gerlingen
Goldberg (Sindelfingen)
Grafenau
Harthausen (Filderstadt)
Hinterweil (Sindelfingen)
Höfingen (Leonberg)
Kaltental (Stuttgart)
Kapellenberg (Grafenau)
Leinfelden (L.E.)
Leinfelden-Echterdingen
Leonberg
Magstadt
Maichingen (Sindelfingen)
Malmsheim (Renningen)
Merklingen (Weil der Stadt)
Möhringen (Stuttgart)
Musberg (L.E.)
Neuhausen a.d. Fildern
Nufringen
Oberaichen (L.E.)
Patch Barracks (Stuttgart)
Plattenhardt (Filderstadt)
Ramtel (Leonberg)
Renningen
Rohr (Stuttgart)
Schafhausen (Weil der Stadt)
Schillerhöhe (Gerlingen)
Sielmingen (Filderstadt)
Sindelfingen
Sonnenberg (Stuttgart)
Stetten (L.E.)
Unteraichen (L.E.)
Vaihingen (Stuttgart)
Warmbronn (Leonberg)
Weil der Stadt
Wolfschlugen
NOTE: Middle school students in these villages attend Robinson Elementary/Middle School, except Gärtringen, Ehningen, and Nufringen, where middle school students attend Boeblingen Middle School.