Update Courtesy of Sabrina Wilson
Jonnen Messer, a 5th grade student from Ramstein Intermediate was named champion of the European PTA Regional Spelling Bee, March 10 at Ramstein Elementary School on Ramstein Air Base.
After 38 rounds, he won with the word "trillado." Second place went to Ramon Padua Jr. from Ramstein Middle School. The third place was Sara Moriarity from Naples.
Messer also received two roundtrip tickets to Washington D.C. to compete in the 2018 Scripps National Spelling Bee, May 29-31.
Congratulations to all students from the Stuttgart area and beyond who participated.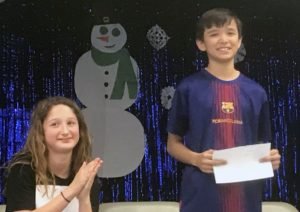 RBES hosts 2018 Scripps National Spelling Bee
By Janis Renninger
Robinson Barracks Elementary School
The entire third through fifth grade student body was on the edge of their seats during the Robinson Barracks Elementary School 2018 Scripps Spelling Bee, Jan. 29.
The minutes were getting closer and closer to the dismissal bell as the competition came to its finale right at the end of the day. After beating out 11 other competitors, Salvatore Barbaria from the multi-age 4th/5th grade classroom, correctly spelled the word, "administration" and became this year's winner.
The spelling bee came down to the 15th round in a tight contest with 5th grader Maddie Wiemer coming in a close 2nd. The spelling bee participants qualified for the competition by securing one of two spots from each 3rd-5th grade classroom during run-off bees.
The contestants including Salvatore and Maddie were Grace McKernan, Morgan Wedewer, Tiera Austin, Benjamin Simmers, David Salter, Shelby Jones, Vance Miller, Sawyer Sheffield, Mary Salter, and Charlotte Vairetta.
As the winner of the Spelling Bee, Salvatore will move on to compete at the European level spelling bee at Ramstein Elementary School on March 10, along with Rachel Winkelman from Patch Middle School. He also received a $100 prize to help with travel to Ramstein from the RBES PTSA.
Congratulations to all of the student spellers for their hard work and participation!