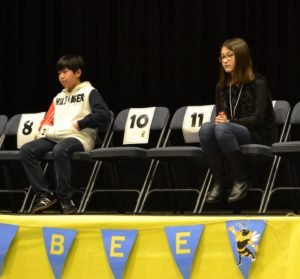 By Sharon Gilbert, Laura Burbridge and James Lloyd
Patch Middle School
Patch Middle School's Parent Teacher Student Association (PTSA) hosted the annual Scripps National Spelling Bee competition, Jan. 18, at the school on Patch Barracks.
European PTA sponsors the Scripps National Spelling Bee for all DoDEA-Europe Schools. Each year, talented spellers compete at the school level and then at the European level for a chance to go to Washington, D.C. to represent DoDEA-Europe in the national competition.
Patch Middle School's top three finishers received trophies, Exchange gift cards and participation certificates while everyone enjoyed the Bee-themed cupcakes and other refreshments.
The school had 14 students participate in the Spelling Bee. By the 10th round they were down to two spellers. Rachel Winkelman and Donovan Kaya went head to head for nine rounds, when Donovan missed his word giving Rachel the chance at the championship word. Rachel spelled "chesterfield" correctly and was declared the winner of Patch Middle School's 3rd annual PTSA Spelling Bee. She will attend the 2018 European PTA Regional Spelling Bee to be held March 10 at Ramstein Elementary School, on Ramstein Air Base, Germany.
Runner up and third place awards went to Second Place Donovan Kaya, and Third Place Erin Morrow.
6th grade: Branson Barnhart, Kayleen Meade, Regan Samsel, Sophie Rideout and Rachel Winkelman – First Place
7th grade: Erin Morrow – 3rd place, Bella Macemon, Preston Balisky, Donovan Kaya – Second Place, and Jacob Everett
8th grade: Jordan Sanders, Jacob Shumate, Isabella Samsel and Cole Wright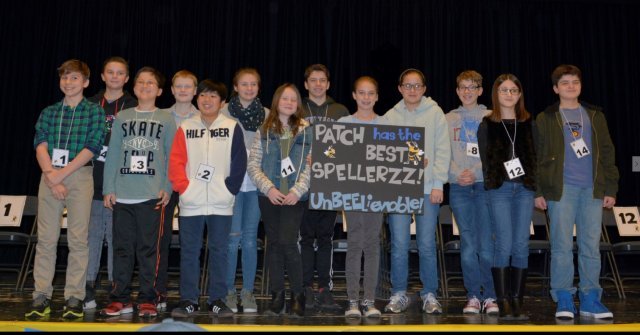 [slideshow_deploy id='35764′]