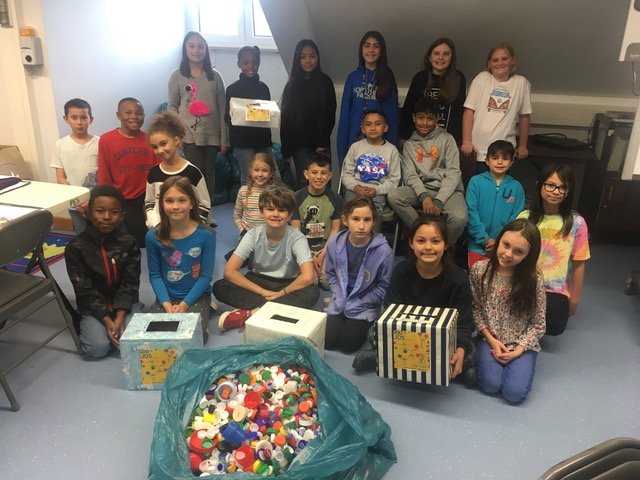 Story and photo by Amy Rush
Physical Education Teacher
Patch Elementary School
As school year is about to end, the Patch Elementary School student council has been collecting plastic caps to raise money for children in Africa who cannot afford vaccinations.
For every 500 caps collected in this "Caps for Vacs" community service project, a vaccination is given to a child in need.
"This project is helpful because there are people who cannot go certain places without these vaccinations," said student council member Ellamay Miranda.
The collected caps go to a factory that melts them down in order to reuse the plastic. The factories pay for the caps and the money raised pays for the vaccinations.
"I feel proud to be doing this project, knowing that it could save lives," said council member Noah Ewing.
Student council members made great efforts to ensure the success of this service project.  They placed boxes at PES and the USO,  and enlisted the help of parents who took Caps for Vacs collection boxes to their workplaces.  The students are working with the Germany Alumnae chapter of Delta Sigma Theta, Inc. and the student council at Stuttgart Elementary School.
"This project makes me feel good about myself knowing that it takes so little work, but helps so many children," said student council member Brooke Peterson.
Attached to the box in the USO is a message: "If you want to know who fills this up, me; Dr. David Strickland, a children's doctor."
Student Council members estimate that there are 4,000-5,000 caps in each of their seven blue giant trash bags.  Their final message to the Stuttgart community is "Don't forget to donate your Caps for Vacs!"