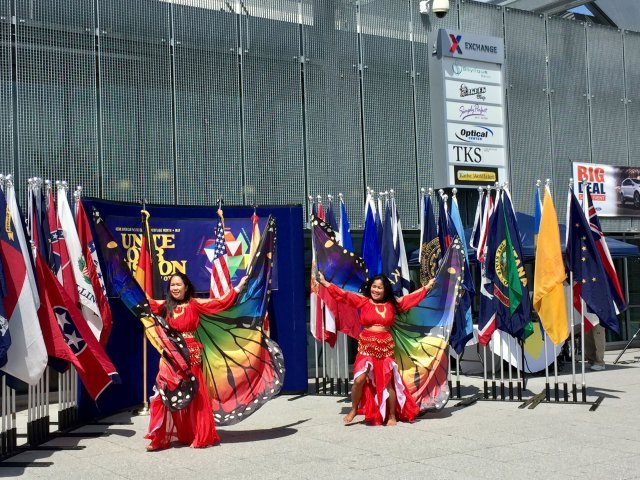 Story and photo by Holly DeCarlo-White
USAG Stuttgart Public Affairs
Asian-American and Pacific Islander Heritage Month was celebrated at the Main Exchange on Panzer Kaserne, May 23, with live entertainment and food for all Stuttgart military community members.
The 2019 theme was "Unite Our Mission" by engaging with each other, in recognition of the contributions, service and sacrifices of Asian and Pacific Islanders across the United States.
USAG Stuttgart Equal Opportunity Advisor Sgt. 1st Class Pierre Y. Boynton emceed the ceremony. Boynton described how the "Asian-American and Pacific Islander" designation encompasses an array of languages and cultures with more than 50 ethnic or language groups and subgroups, including native Hawaiians and other Pacific Islanders.
To enable community members to experience a few of the traditions first-hand, Jessebel Fischer and Deanna Ruth Ulbricht of Mi Amiga Groups entertained an audience of all ages with dances from various cultural genres, and vocalist Lynn Lueder sang peaceful, traditional songs from Thailand. In addition to entertainment, food samplings were prepared by Cherry's Kitchen Catering.
No military community event would be complete without a ceremonial cake. Provided by the Exchange, the cake was cut by Capt. Carlie Wilson, commanding officer, Headquarters and Headquarters Company, USAG Stuttgart, 1st Sgt. Lisa Zoechbauer and the event performers.
View more photos here and see a clip of dancers on the garrison Facebook page.