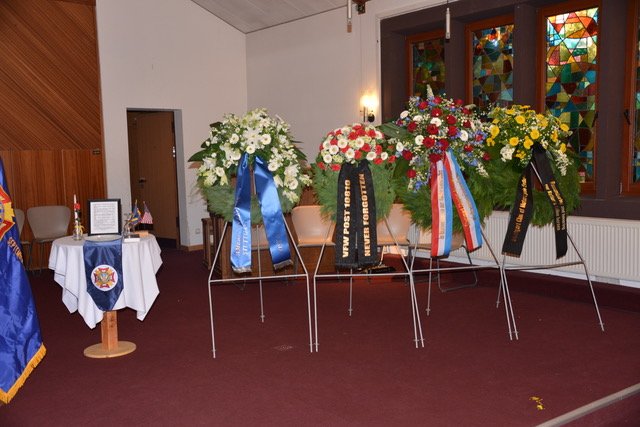 Story and photos by Larry Reilly
USAG Stuttgart Public Affairs
The Patch Chapel carried a somber note of remembrance as dozens of community members participated in a Memorial Day ceremony, May 27, to honor and remember those who paid the ultimate sacrifice  while serving in the U.S. military.
Active duty, retired and former service members, representing various military branches, as well as civilians and family members, listened to guest speaker Fleet Master Chief Crispian D. Addington, senior enlisted advisor, U.S. European Command, and veteran Doug Clemence, commander, American Legion Post 6, speak about the significance of Memorial Day.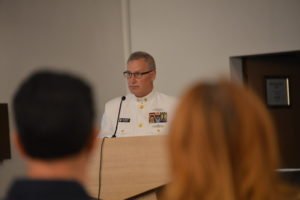 "This year, Memorial Day is especially meaningful as we mark the 75th anniversary of D-Day. Between 1939 and 1945, the devastating warfare of World War II raged across Europe, the Pacific and North Africa," Addington said. "Even seven decades later, the numbers are staggering. In all, 16 million Americans served in World War II and more than 405,000 made the ultimate sacrifice."
Addington spoke about the tens of thousands of Americans laid to rest in many overseas military cemeteries who were never returned to American soil.
"These numbers are truly humbling. They represent people who were brothers, sisters, fathers, mothers, and friends. They left un-fillable holes in families, communities and hearts across the nation. They were loved. They were mourned.  And they are missed," Addington said.
Both Addington and Clemence shared stories of service members who gave their lives to save their comrades or chose to lead the way when they knew doing so may cost them their lives.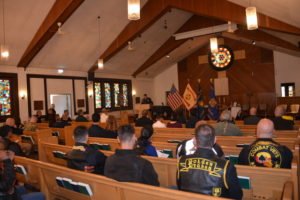 "From the American Revolution to our current operations against terrorism, one million American men and women have made the supreme sacrifice while serving in wars and conflicts. We honor all of them, not just those with the highest medals or the heroes who fought in the most famous battles," Clemence said. "They all died so we can continue to cherish the things that we love: freedom, country and family."
The speakers' reiterated the reason for gathering on Memorial Day, that being to honor and reflect on the memory of the fallen warriors who gave everything.
Addington concluded the somber ceremony with his closing remark from a well-known military leader.
"In the words of a great American hero who rests for eternity on European soil, Gen. George S. Patton, 'It is foolish and wrong to mourn the men who died. Rather, we should thank God that such men lived,'" Addington said. "On this Memorial Day and every day, we ensure they are never forgotten."