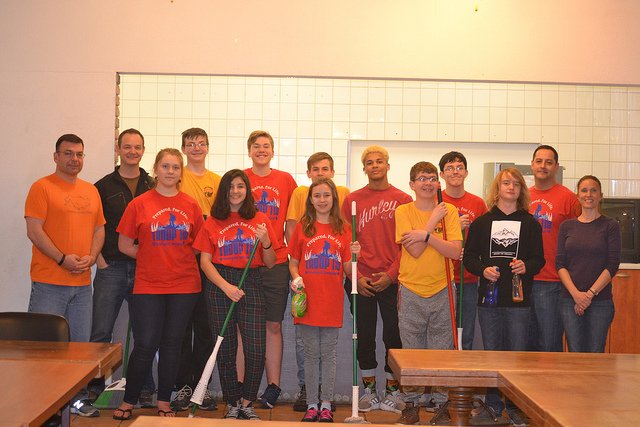 By Holly DeCarlo-White and Sabrina Wilson
USAG Stuttgart Public Affairs
After more than 100 years, the Boy Scouts of America program has updated its policy to a gender-neutral format, meaning boys and girls can now join a troop–together–in their communities.
In February, the name of the organization was updated to reflect the change to "Scouting BSA." The impact was positive for Scout troops that were otherwise struggling for membership, such as Troop 113 on Robinson Barracks. Scoutmaster Peter Field described the troop's recent growth spurt due to the change in policy.
"We were able to barely hang on here … luckily, lately we have gone through a recent growth spurt with new Scouts either coming up from the Cub Scouts, moving to the area, or BSA national has recently changed policy and we have the addition of female scouts," Field said.
This month, the troop added the first three female Scouts: Emeline Anderson, Lily Field and Lillian Miller.
[slideshow_deploy id='43787′]
Emeline joined scouts for the opportunities it provides and to be closer to her brother, who is also a Scout.
"I joined for the opportunities to build upon my skills and the opportunities to learn more about teamwork and leadership," Lily said.
"I am a big fan of tech," Lillian said.
Lillian joined the Scouts to participate in more activities, and joked about the perception of the Girl Scouts making bracelets vs. the Boy Scouts shooting bows and arrows. She is looking forward to projects involving "robotics, and anything digital."
The first project of the newly integrated troop was community service at the RB Zentrum (RBZ), Feb. 25.
"We are doing a deep clean of the RBZ, helping to clean it up, mop, wipe it down, and give it some love," said Drake Field, senior patrol leader for Troop 113. "The whole point of Boy Scouts is it was founded not just as something to benefit young men–and now women–but also to help benefit the communities that these young men and women live in. We've all come to the RBZ for celebrations and all sorts of events. It deserves a bit of restoration."
Troop 113 currently has 10 members, with four on-boarding soon. Field is also the Cub Scouts' cubmaster on RB.
"We currently have 21 Cub Scouts, which for the last year have included females, but there's not many yet," Field said. "We are always looking for more to join the great program, to see the opportunities that we have, to experience the things that we can over here, especially with being stationed in a unique place like Germany. It's a great program including all families now so we are really excited."
Drake, who has been a Scout since the first grade, described his enjoyment growing up as a Scout, including unique experiences both in America and Europe.
"Large campouts and activities with multiple different troops, such as the Normandy trips where you meet all the international Scouts … also the inter-camps, you get to meet a lot of Scouts from other countries, such as Poland, Czechoslovakia, France, Belgium, Germany and the Ukraine," Drake said. "This year there is a camp in Croatia … last year, the summer camp was in a volcano in Italy!"
The addition of females certainly is nice, especially with Troop 113, now being the largest in membership since he has been here, Drake explained.
"We can accomplish more with more members … we can have more patrols and more opportunities for leadership," Drake said.
(Editor's note: Community volunteer Sabrina Wilson is a regular contributor to the Stuttgart Citizen.)