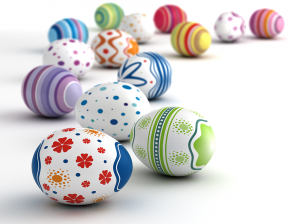 By Teri Weiss
Special to the Citizen
Now that spring is here, just about one hour's drive from Stuttgart is a treat not to be missed:
Open not just around Easter time (see schedule below), the unique Osterei Museum boasts a collection of small but beautiful works of art.  More than 1,000 Easter eggs are on exhibit in the renovated old schoolhouse-turned-museum in the little town of Sonnenbühl. It first opened in 1993 as the only one of its kind in Germany.
This year, there are many newly acquired ornament eggs on display, in addition to the large permanent basic collection. None are duplicates, all are showpieces of the art and craft of egg decorating. Different materials, such as wood, enamel, glass, precious stones, jewels and others have also been turned into egg-shaped creations. Also available is much interesting information about decorating, painting and engraving of fragile egg shells.
The egg as the world-wide symbol of victory of life over death has a very old tradition and a long history.  This museum provides an extensive overview of  "all you ever wanted to know" about Easter eggs from many different lands and cultures.  Each year, for several weeks around Easter, "egg artists" show off their talents at an international artists' fair and market.
Many lovely oval works of art are on exhibit to be admired, among them fingertip-sized finches' eggs, elaborately painted swans eggs, and even some enormous decorated ostrich eggs.
In addition, there are ordinary chicken, duck and goose eggs painted to look like Coca Cola cans, or eggs with modern-day piercings, zippers and safety pins.  Truly a museum well worth a visit – not only at Easter time.
A small cafe on site offers coffee and snacks.
The Osterei Museum is located in the town of Sonnenbühl, at Steig Strasse 8.
How to get there:
Drive southward out of Stuttgart on the B27 highway, past the Stuttgart-Echterdingen airport, in the direction of Reutlingen. Exit onto the B464, follow signs for Sonnenbühl. Take the L382 to and into Sonnenbühl. Turn left on Markstrasse, then left on Steig Strasse.
For more information on hours and entry cost or group tickets, visit here.