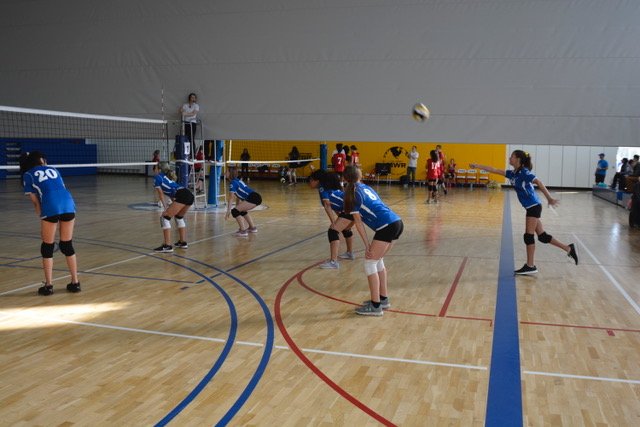 Story and photo by John Reese
USAG Stuttgart Public Affairs
The USAG Child & Youth Services Sports finished up the 2019 volleyball season at the Patch Fitness Center and Middle School, and leaned forward into next year with winter sports workshops for basketball, wrestling and cheerleading.
Volleyball concluded with a 21-team jamboree hosted by Stuttgart, with six bantam teams of athletes ages 8-11 and 15 junior teams of players, ages 12-15, playing a vigorous 22 game schedule.
"In the league play during the regular season, all teams played a 12-game schedule prior to the jamboree," explained Tom Hlavacek, CYS Sports.  "Junior teams traveled to Ansbach for games and hosted teams from Ansbach and Grafenwoehr."
Opposing teams from garrisons at Ansbach, Baumholder, Kaiserslautern, Sembach, Landstuhl, Grafenwoehr and Wiesbaden participated. All matches were conducted in a single day, with four matches that began hourly. Teams were guaranteed to play at least two matches (remove) before the finals.
All of the "Wolves" enjoyed the volleyball season–players, coaches, and parents alike, said Ross Coffey, volleyball coach.
"Everyone picked up some new skills and enjoyed the friendly competition, and most of the kids indicated they would play volleyball again in the future," Coffey said.
The jamboree was a highlight for Coffey.
" I particularly enjoyed how the kids won with humility and lost with grace," he said.
With the end of volleyball, a CYS basketball officials' clinic was held on Panzer Kaserne, Nov. 13–14. Learning how to officiate properly is important, Hlavacek said.
"CYS is governing by National Federation High School rules," he said.
The upcoming 2020 winter sport season and the basketball officials' clinic has passed. The wrestling clinics are scheduled 6–9 p.m., Jan. 14-15. A wrestling practicum will take place Jan. 29 or 30 at Stuttgart High School.  Watch for an announcement in the January issue of the Stuttgart Citizen and online with more details.
CYS Sports will be hosting a free Cheer Workshop for any child interested in developing the fundamentals of cheerleading, 5:30 pm, Dec. 12,  and is open for children ages 5-10 years.  Registration is not necessary.
"New officials are required to attend a sport official's clinic within a calendar year. Veteran officials with a valid sports contract are required to undergo refresher training on a biennial basis.  We highly recommend officials to attend a refresher training on a yearly basis as sport rules are changing each year and we want officials, coaches, administrators to be on the same page before the season begins." said Jason Kettenhofen, CYS Sports & Fitness Director. "If unable to attend, please contact our office so we can attempt to schedule a time to meet that works for both of us."
CYS reviewed the National Federation High School rules and local bylaws for each division for basketball during the November official's clinics.
"We look forward to the season, and thanks for your support," Kettenhofen said.