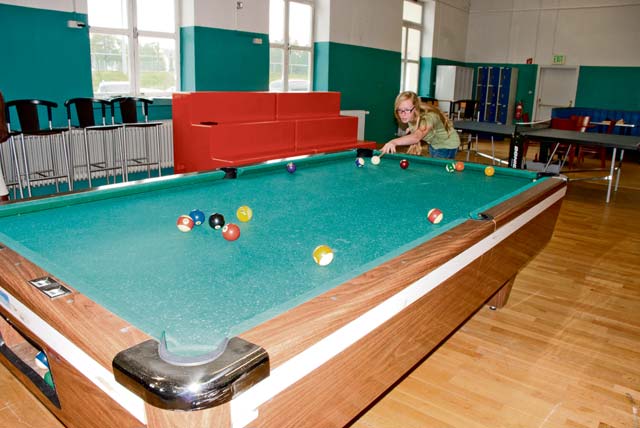 By Rick Scavetta
USAG Stuttgart, Public Affairs
STUTTGART, Germany – Closing the Panzer Youth Center will open new childcare opportunities for community members with younger children. 
Staff at Child and Youth Services, part of USAG Stuttgart's Directorate of Family, Morale, Welfare and Recreation, often face a daunting task of providing supervised childcare with limited resources. This includes: Child Development Centers, caring for infants and children up to pre-kindergarten; School Age Centers from grade kindergarten to five; and Youth Centers for middle school and teens.
Demand is high. Wait lists are long. Space for children is limited. 
Yet, staff create ways to improve conditions, albeit through often tough decisions on where to focus services, said Jamie Ruffini, who leads CYS. 
"We are committed to doing the best we can, with the resources we have, and looking to the future to determine where we have some maneuverability," Ruffini said. "As we're looking to what programs need renovation or new programming ideas, we look at everything to make a good decision for the overall community." 
In Stuttgart, CYS maintains a long waiting list for both CDC and SAC age groups, which require supervision.  
"With this closure, we are able to open 23 additional school age care spaces on Panzer and 12 additional full-day CDC spaces," Ruffini said. 
Reallocating resources is not easy. Finding space to meet the community demand requires CYS staff to work with other FMWR divisions to find solutions. School age children will use the space formerly used as a youth center. The current Panzer school age center then has space for kindergarteners from the CDC, a move undertaken already on Patch, Robinson and Kelley. 
Once word of the Dec. 1 closure surfaced on social media, parents of teens who use the center voiced their concerns. Complaints don't go unheard. In fact, Ruffini personally called parents of Youth Center patrons to explain. 
"It was important to me that the parents understand, one-on-one, what our future intent is. So, they don't believe that we just decided to close something randomly, with no reflection," Ruffini said. "We're trying to maximize availability for everybody."
Teens at Panzer can take the duty bus to the Patch Youth Center, also known as the HUB. Another youth center is on Robinson Barracks. Also, staff requested a new youth center on Panzer Kaserne, with hopes that it can be located closer to the high school where teens often congregate after school. 
Meanwhile, as a mitigating solution, plans are underway to convert a room at the Galaxy Bowling Center into a supervised gaming room they can use after school. Community members will have access during other times. Once an aging indoor playground for kids, the garrison closed that space this autumn for safety reasons. There are no plans to replace that activity.
"We trying to put in things that the community is interested in, young and old alike," said Corrie Schwab, FMWR's operations officer. "This will be for teens who lost their youth center, during after school hours, and a great place for parents and young people to join in gaming together."