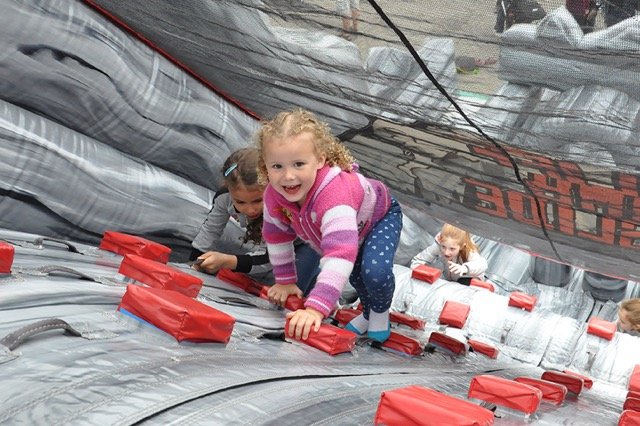 By John Reese
USAG Stuttgart Public Affairs
To cap a month of recognizing the challenges faced by military children, a Month of the Military Child Spring Fest was held for kids at the Patch Fitness Center, April 28. The fest was orchestrated by the USAG Stuttgart Army Community Service and assisted by a number of sponsors.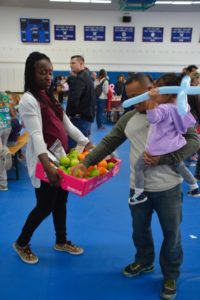 Inside and out (despite periodic rain sprinkles that did little to dampen spirits), hundreds of children enjoyed games, activities, face-painting, treats and a modern, gentle, big inflatable rock slope – not a wall, so little ones could enjoy it, too – that rewarded climbers with slides back down.
Two hours into the event, 8-year-old Stuttgart Elementary School student Ellyanna Thompson had been too busy performing with her dance troupe to enjoy the games, but she was enjoying the fun-packed room.
"I like it. It's really fun," Ellyanna said, adding she enjoys community events for kids.
Throughout April, the garrison held a variety of fun and exciting events to officially recognize the resilience of our military children. This year's MOMC theme, "Brave Hearts, Resilient Souls," highlighted the unique live, contributions and sacrifices the children of the Stuttgart military community make while their parents serve the nation.
"I think the turnout was great," said Samuel S. Thompson, instructional programs specialist, CYS and event emcee. "Several hundred people, supporting the CYS and SKIES program, is a really nice turnout. I'm glad to see the parents here supporting their kids, especially for an event during the Month of the Miiltary Child."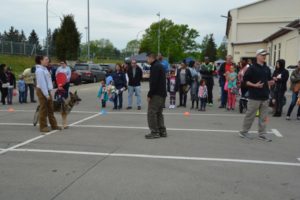 MOMC is annually observed, worldwide, in April. Locally, the USAG Stuttgart's Army Community Service Family & Morale, Welfare and Recreation's CYS, and the Family Advocacy Program combined forces to celebrate the community's military kids.
[slideshow_deploy id='38336′]
KIDS4