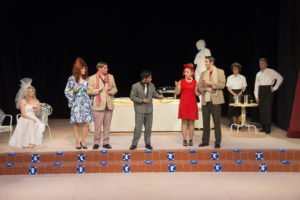 By Bardia Khajenoori
USAG Stuttgart Public Affairs Office
Having closed the book on two musicals and a live radio play, the Stuttgart Theatre Center (STC) turned to Shakespeare for its penultimate production of the season, performing "The Taming of the Shrew" from late March to mid-April.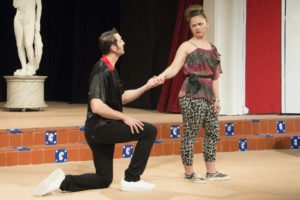 Taken at face value, the romantic comedy's main plot centers on the courtship and eventual "taming" of the strong-minded and independent Katharina (or Kate) into an obedient wife by the equally stubborn Petruchio. Consequently, it is hardly praised for its feminist perspective—even as its interpretations continue to be debated today. Director Richard Roberts created an amusing juxtaposition by setting the production in the 1960s, at the outset of the second-wave feminist movement. His decision had a noticeable impact in the visual dimension, to say nothing of the narrative implications, as actors sported delightfully dated costumes and hairstyles such as the beehive. The first character to appear onstage, Kate was introduced wearing leopard print pants and reading a copy of "The Feminine Mystique," as if to quickly settle any doubts about where and when the audience found themselves.
A strong and well-cast company all delivered solid performances as they took on the year's most complex show. Brandy Thomas was an exceptionally convincing Kate, infusing every moment of her transformation with precisely the level and type of emotion required. She paired well with both Nathan Dehnke, who played Petruchio, and Sarah Watson, who shined as Kate's much-desired younger sister, Bianca. Dehnke demonstrated the consistency which has made him a mainstay on the STC stage, and his Petruchio seemed to relish the challenge of "taming" Kate rather than conveying the overt misogyny that is sometimes read into the character. The size difference between Dehnke and Thomas readily lent itself to entertaining sequences of physical comedy as the two struggled in their battle of wills. Watson, meanwhile, was a natural fit in her role, effortlessly handling her many humorous exchanges and playing sweet and innocent without minimizing Bianca's cleverness.
The production did a fine job of showcasing not only the long-term commitment of frequent players but also the ability of newcomers to slot seamlessly into leading roles. Of the 13 cast members, five were in their first or second appearance on the STC stage.
One of those newcomers was Marc Cabé, a sophomore at Stuttgart High School appearing in his first-ever acting role as Lucentio, a rich, young bachelor with eyes for Bianca. Cabé was genuinely impressive, playing his character with earnestness and a modicum of dim-wittedness. Speaking after the show, he revealed he had no hesitation about starting his performance career with the challenge of Shakespeare and, in fact, felt invigorated by his discovery of a new creative outlet.
"I just wanted to get on stage," said Cabé. "The play opened up my eyes to new possibilities and ways to express myself."
Cabé wasted no time in coming back; he has already been cast in the STC's next and final production of the season, "A Coarse Acting Show (The Original Plays that Go Wrong)!" The comedic show is performed with tongue firmly in cheek as a troupe consisting of STC rejects tries to demonstrate the depth of their overlooked (and overestimated) talent. They intend to showcase four pieces of varying styles, including a British murder mystery and an opera. As the title suggests, however, things may not go exactly as planned.
The show will be at the theatre on Kelley Barracks May 18 & 19 and June 1, 2, 8 & 9 at 7:30 p.m., with Sunday matinees on June 3 & 10 at 3 p.m. Reservations are recommended.
Editor's note: The Taming of the Shrew was recently honored at the Europe-wide TOPPERs Tournament of Plays. Read the full story.
Learn more about the Stuttgart Theatre Center or reserve tickets for a show. The box office also takes ticket reservations by phone at DSN 421-3055 or 0711-729-3055, 12:30-5:30 p.m, Tuesdays through Fridays.