By USAG Stuttgart Public Affairs
Volunteers across U.S. Army Garrison Stuttgart  chucked wood, stamped passports and helped with numerous vaccination drives saving the Army's top post in Baden-Württemberg more than $1 million this year. 2000 volunteers gave 35,858 hours to agencies ranging from the thrift shop to the Red Cross and even this very Public Affairs office.
This year on April 21 the garrison recognized four extraordinary volunteers and one team who went the extra mile in making USAG Stuttgart's "I'm glad I live here!", motto come to life.

Military Volunteer of the Year: Joshua Myrice, Patch Arts and Crafts
Joshua Myrice's support was critical in continuing operations during manning shortfalls, at times utilizing his personal leave to do so. Without his help many critical projects would not have been addressed. He supported the annual Disinterested Inventory, which shortened the counting time, allowing the facility to reopen on time and improved the facility's appearance by hanging signs and cleaning the parking lot. Myrice also set up the new long-arm quilting system, ensuring a major system upgrade to further expand training and recreational options for the community. All of his efforts are intended to make the Arts and CraftsCenter a better facility and to improve the community's resiliency through access to quality recreational programing.

Civilian Volunteer of the Year: George Murphy, Kelley Woodshop
George Murphy acts as the volunteer facility manager. He recruited, trained, and organized a team of volunteers to help keep the facility open during manning shortfalls and took on the responsibility to standup a Woodshop Advisory Council. He stepped into role of woodworker to offer the woodshop safety course to the community, which is required prior to utilizing the facility. Murphy volunteered every Sunday (except during leave), for the entire year to ensure novice woodworkers had someone to turn to for advice and guidance. You may have seen his work throughout the garrison as he has created displays and fixtures for MWR facilities. His commitment alone has helped to keep one of the last working garrison woodshops open in Europe.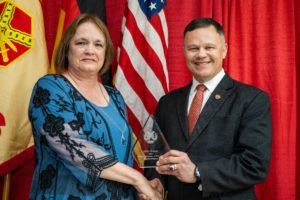 Senior Volunteer of the Year: Marina Payne, Passport Office
Marina Payne's contributions as an administrative assistant have strengthened the Passport/SOFA team and enhanced the agency's support to the Stuttgart Community. She is a team player; collaborating with staff, leaders, and customers alike. Her finesse on crowd control has been crucial to front door services, and her assistance to passport agents with daily tasks ensures customers are seen in a timely manner with virtually no wait time. The high volume of the Passport office production is a testament to her valuable support. Despite personal obstacles, Payne demonstrated a distinctive commitment and dedication to the mission. Her selfless service has proven invaluable and is an integral part of the agency, helping to improve the quality of life of the community members by supporting the delivery of essential personnel services.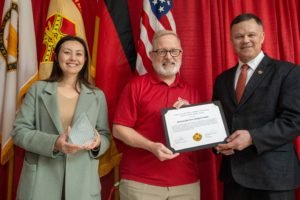 Team Volunteer of the Year: Red Cross Stuttgart Station
The American Red Cross (ARC) Medical-Support volunteer team has augmented the USAG Stuttgart's medical clinic, covering a variety of medical needs. Throughout 2021, forty-nine volunteers supported work in various outpatient military clinics. They played vital roles in patient care and a variety of support services which included telephone consults, patient education, walk-in patients, and COVID-19 programs such as testing and vaccination. This team worked selflessly in potentially hazardous environments, putting themselves and to a great extent their own families at risk during the COVID-19 pandemic. Their efforts and support to Stuttgart's medical operations helped ensure its ability to deliver care to this community.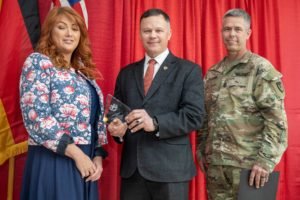 Special 1000+ Hour Volunteer Award: Karen Stroup
Karen Stroup has committed 1043 hours for the year 2021, to the Stuttgart community. Her volunteer time includes volunteering for the USO as well as the Stuttgart Community Spouses Club as the Information Management Officer and a volunteer in the Patch Thrift Store.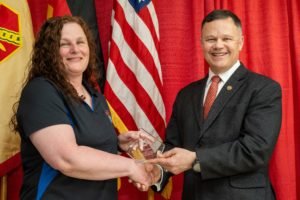 Special 1000+ Hour Volunteer Award: Camey McGurk
Camey McGurk is a volunteer with the Stuttgart Community Spouses Club as its President as well as a volunteer with the Patch Thrift Store. She has committed a total of 1516 hours to the community for the year 2021.