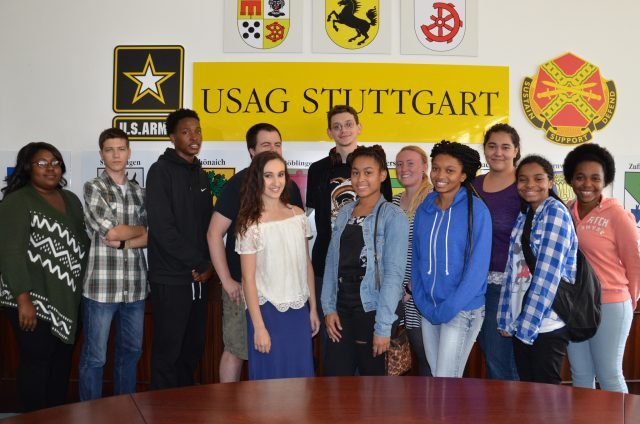 By Holly DeCarlo-White
USAG Stuttgart Public Affairs Office
U.S. Army Garrison Stuttgart's annual Summer Hire Program came to a close, Aug. 5. The program offered jobs in various positions for 18 students this year during the six week program.
The Summer Hire Program is for student's ages 14 to 22 who are family members of an active duty service member, and want to experience working in a professional environment within a garrison.
In addition to being a paid student work program, participants have the opportunity to learn useful knowledge and skills in a real world environment.
As a Summer Hire, participants are held to the same expectations as their fellow garrison employees. Summer Hires must maintain a 40-hour work week, track sick time, and know workplace safety. They must maintain daily responsibilities by given deadlines, and submit status reports to their supervisors.
This year, hires were placed in positions under the following garrison directorates: Army Community Service, Fitness Centers, Postal Services, Military Personnel Division, Public Affairs, and the Plans, Analysis & Integration Office.
At the closing reception, held Aug. 5 on Panzer Kaserne, led by Richard K. Calnon, USAG Stuttgart's director of Human Resources, students reflected and shared their experiences with the group.
Emily Roscoe Supinger, a graduating Stuttgart High School senior heading off to college in Virginia Beach this month, and Gwenyth Murphy, a current college student who returned to Stuttgart to be with her family for the summer, shared their experiences working together in the mail room.
"There is a lot that goes on behind the scenes," commented Roscoe Supinger.
"The mail room was great," said Murphy, "we learned a lot about the system, it was a very good experience."
Sianne Jusino-Vega was tasked to conduct the annual USAG Stuttgart Public Affairs Office community survey about garrison communication with fellow graduating SHS Senior Alec Perez.  Jusino-Vega shared how she was challenged to find ways to read and approach people. "It took a lot of patience," she added. Perez and Jusino-Vega successfully surveyed 1,374 Stuttgart community members.
During the reception, participants each received a certificate of achievement signed by the garrison command team in appreciation of their contributions and hard work during the program.