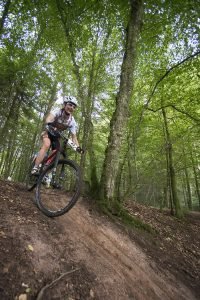 Story and photo by Kevin S. Abel
USAG Stuttgart Public Affairs Office
The Beast, is one leg of IMCOM-E's 2016 Mountain Bike Race Series,  held Aug. 6 on trails winding through forests and single track trail of the local training area covering just over 222 kilometers.
More than sixty mountain bike racers travelled from U.S. Army garrisons across Europe to test their skills in "The Beast".
Living up to its name, the grueling course challenged even the most experienced of mountain bikers requiring them to rely on their experience and endurance, to see them through the single track technical sections. "This course lives up to its name," said Jason Johnston, race participant. "If you want to find out why, come sign up and find out."
This is the fourth year that U.S. Army Garrison Stuttgart's Family and Morale, Welfare and Recreation, Outdoor Recreation has held the race.
All participants received t-shirts with awards being presented for 1st, 2nd, and 3rd place riders in each category.
For additional photos of "The Beast" visit our Flickr Site.
Five categories Winners:
Men's Open (ages 18 years and up)
1st Place – Sebastian Bapp
2nd Place – Maximillian Vetter
3rd Place – Marco Apel
Men's Seniors (ages 35 – 44 years)
1st Place – Steve Lindsey
2nd Place – Josh Moore
3rd Place – Jay Cortner
Men's Masters (ages 45 years and above)
1st Place – Leigh Plowman
2nd Place – Anthony Baker
3rd Place – Arch McLellan
Men's Clydesdale Open (age 18 years and older and 200 lbs. and greater)
1st Place – Matthew Washburn
2nd Place – Seth Lipsky
3rd Place – Louie Jimenez
Women's Open (ages 18 years and up)
1st Place – Nina Moore
2nd Place – Anjelica Rodriguez
3rd Place – Gladianav Guerra