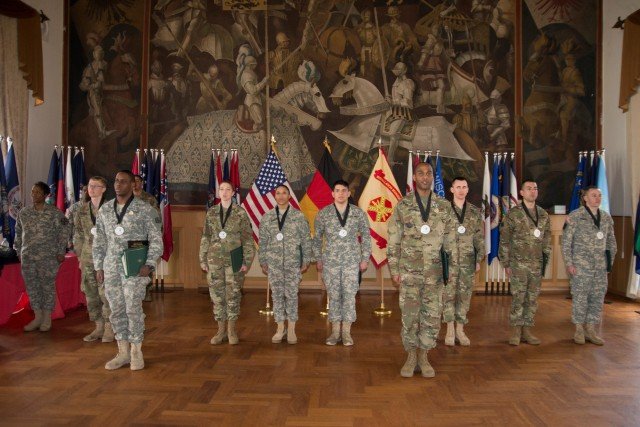 Story and photos by Kevin S. Abel
USAG Stuttgart Public Affairs
The U.S. Army Garrison Stuttgart Best Warrior Competition concluded today with the naming of the winners.
U.S. Army Spc. Samuel Latimore, assigned to the 52nd Signal Battalion was named Stuttgart's Service Member of the Year in the E-1 to E-4 category and U.S. Army Staff Sgt. Deon D. Myers, assigned to Defense Information Systems Agency-Europe, was awarded  Best Warrior Noncommissioned Officer of the Year for the E-5 to E-7 category.
The four-day competition started Feb. 21 with 10 competitors completing the following events:
Army Physical Fitness Test
12-mile ruck march
Obstacle course
Situational Training Exercise (STX), with seven stations, warrior tasks, and battle drills
Zero and weapon qualification on the M4 carbine, M16 rifle, and M9 pistol
Board appearance
Day and night land navigation
Latimore and Myers will go on to represent USAG Stuttgart at the Installation Management Command-Europe regional competition this March in Stuttgart.