Story and photos by Marcus Fichtl
U.S. Army Garrison Stuttgart
STUTTGART, Germany – U.S. Army Garrison Stuttgart continued its path to normalcy as hundreds of kids received their first dose of the COVID-19 vaccine, May 22.
Saturday's vaccine drive was aimed to get a majority of the roughly 1500 kids aged 12 to 17, here, on the path toward immunity. It's the near-culmination of a vaccination campaign that began when the first needles hit shoulders at the Stuttgart Army Health Clinic, December 31st.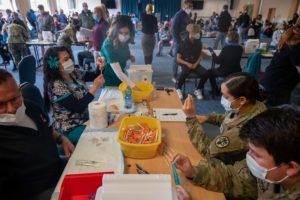 "We've vaccinated adults, we've vaccinated high risk – the question was, when are we going to start vaccinating kids," said Lt. Col. David McGurk, the garrison's COVID-19 vaccination liaison.
That answer, represented by a line that stretched a quarter mile from the makeshift vaccination clinic inside Patch Barracks' community center to the post gym, was an enthusiastic "today."
McGurk said that while the vaccination rate was high for the adults working on the garrison, the large population of kids on post was still a significant vulnerability for the community. But with the recent arrival of the Pfizer vaccine to the clinic, and a May 10 FDA ruling stating that kids as young as 12 could receive the Pfizer vaccine, McGurk said they were "seizing on an opportunity" to patch that vulnerability.
McGurk added they had also set aside Jansen and Moderna vaccines for parents who hadn't had an opportunity to vaccinate, but were bringing their kids in Saturday.
While the health and safety of the Stuttgart military community is at the forefront of every decision made regarding vaccinations and local mitigation measures, McGurk said there were benefits of the vaccine that stretched beyond the walls of the garrison.
"Beside the fact that vaccinating everyone in the community creates a safe community, it also provides parents and guardians with the flexibility to take advantage of the easing of restrictions in Europe for those who have been vaccinated," he said.
Asia Watson, 17 and heading into her senior year at Stuttgart High School, agreed with McGurk's sentiments. Watson said she was excited for a return to normalcy, and most importantly, the travel.
"I want to go to Paris, France," she said.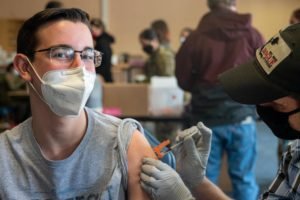 Christian Fischer, 15, said contributing to Stuttgart's herd immunity motivated him to receive his vaccine.
"I did this for the safety of others and the welfare of the community," he said.
Seventeen-year-old Dana Gack when asked if the hour-long wait for the shot was worth it, responded with an enthusiastic, "oh yea!"
For any kid, who wasn't able to attend Saturday's vaccine drive, McGurk said there will be alternate events planned in the near future.
"At the end of the day the goal is to get everyone vaccinated," McGurk said.
For more information on vaccinations or COVID-19 policies in the Stuttgart military community, please visit stuttgartcitizen.com and download the USAG Stuttgart app.