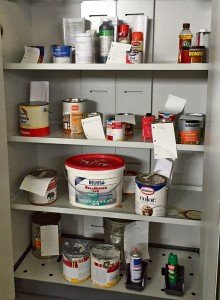 USAG Stuttgart Public Affairs Office
Save the environment and money, too, by using the 405th Army Field Support Brigade's Hazardous Material Re-use Center on Panzer Kaserne. The reuse center provides USAG Stuttgart installation logistics services to sustain unit readiness and improve quality of life.
The center is a warehouse full of cleaning supplies, paint, and toner for printers, oil and other similar products — all free of charge to all ID cardholders. Many of the supplies are donated by people about to return to the States, and as they can't be shipped with household goods, the extra cleaning products can be used by other people. Materials include cleaning spray, ink cartridges, oil and even plant food. The center prevents environmental hazards; it has a sealed floor, absorbent material for spills, an eyewash station, safety equipment and fire extinguishers. It also provides a place where units and community members can drop off or pick up excess toner, lubricants, batteries, adhesives, fuel, paint or acid.
Single items dropped off — such as a bottle of glass cleaner, wood spray, paint products — are easily accessible on a daily basis and can be taken by individuals. However, excess supplies ordered by tenant units can only be reused by other units. Those items are placed in a web base-tracking format tracked in the worldwide Hazardous Material Management System.
Appointments aren't necessary at the Re-use Center for proper disposal. When community members leave their supplies at the reuse center, those that are expired or contaminated will be disposed of properly at the Hazardous Waste Collection Point.
What about furniture?
"Yes, you can turn in furniture to the local Supply Support Activity on Panzer, following their guidance," said Francisco Arturo-Morales, Supply Asset Management, Logistics Readiness Center-Stuttgart.
Furniture can be turned in at the SSA located in Bldg. 2935, Panzer Kaserne. The office is located on the opposite side of the building from the Exchange's Car Care repair bays, across from Vehicle Registration. If you need assistance transporting pieces of furniture, with or without manpower, help is available.
The Reuse Center is open weekdays, 7:30 a.m. to 4 p.m. For more information, call 431-2071 or 07031-15-2071, or call the Installation Supply Officer at 431-3413 or 07031-15-3413
---
Tips to lighten your load
Patch Thrift Shop Donations
Donations to the thrift shop must be dropped off during operation hours; for all after hours donations, there is a donation shed where any donations must be placed. All donations must be inside the shed, items may not be left outside as they could be damaged due to inclement weather and other resource factors.Call the SCSC Patch Thrift Shop at 0711-680-5510.
Stuttgart Community Flea Markets
All flea markets are held on Saturdays and open to I.D. card holders. Market times are 10 a.m. – 2 p.m. The next one is a children's themed flea market in conjunction with the Child Youth Services "For KidZ Only!" spring fest on Patch Barracks, April 27.