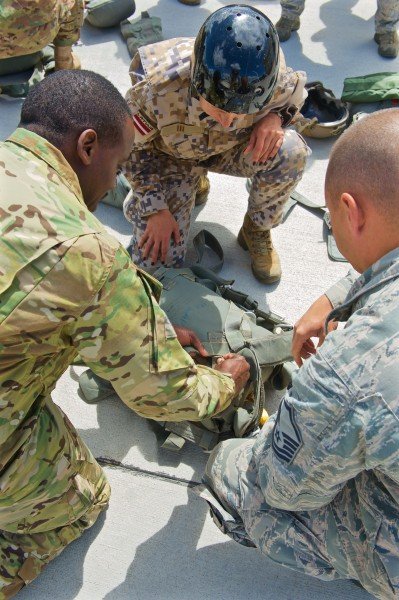 Story and photo by Staff Sgt. Brooks Fletcher
USAREUR Public Affairs Office
ADAZI MILITARY BASE, Latvia (June 17, 2015) — Military personnel, from the Latvian National Armed Forces, U.S. Army and Air Force, performed joint airborne training operations in conjunction with Operation Atlantic Resolve at Lielvarde Air Base, Latvia, June 15.
U.S. service members, who participated in the training, are deployed to Latvia as part of Exercise Saber Strike 2015 and Operation Atlantic Resolve, an ongoing, multinational partnership focused on joint training and security cooperation between the United States and other NATO allies.
"This was a great opportunity to utilize the existing training audience here and further validate what these exercises are all about," said U.S. Army Special Operations Forces Capt. Zach Castle, 1st Battalion, 10th Special Forces Group, or 1-10th SFG, out of Stuttgart, Germany.
The training brought together service members from a gamut of units and organizations.
This included the 1-10th SFG, 86th Airlift Wing, and 435th Contingency Response Group, out of Ramstein, Germany; the Latvian National Armed Forces, out of Riga, Latvia; the 95th Civil Affairs Brigade, out of Fort Bragg, N.C.; several stateside Air National Guard Air Support Operations Squadrons; and the 5th Quartermaster Detachment, out of Kaiserslautern, Germany.
"This exercise was about integrating with one another so we can better understand one another's capabilities," said U.S. Air Force Jump Master Tech Sgt. Cameron Riley, who is with the 435th Contingency Response Group, out of Ramstein, Germany.
The day-long airborne operation consisted of everything from performing equipment inspections, jump procedures and techniques to participants making the 11,000-foot fall into the designated drop-zone.
However, organizing the training did not occur overnight and required extensive cooperation between multiple entities, Riley said. From communicating with units in the area to seeing who was jump qualified to coordinating the use of equipment and other assets, the actual jump became the easiest part of the operation.
"Once you think you have it down, it all changes," Riley said. "However, while an operation of this size may have its hiccups, the biggest reward is once operations are complete. I can look at everyone on the ground, know that they landed safely, and can move out to conduct their mission on the ground."
In this case, an exercise such as Saber Strike 2015, a long-standing U.S. Army Europe-led cooperative training exercise, this small operation further facilitates the cooperation amongst the U.S., Estonia, Latvia, Lithuania, and Poland to improve joint operational capability in a range of missions as well as preparing the participating nations and units to support multinational contingency operations.
"Today's [training] was not only about maximizing the training value for the individual units, but also the relationships established here in Europe," Castle said. "That is really the hallmark of all the training we do here. It's a cooperative and collaborative effort from everyone."