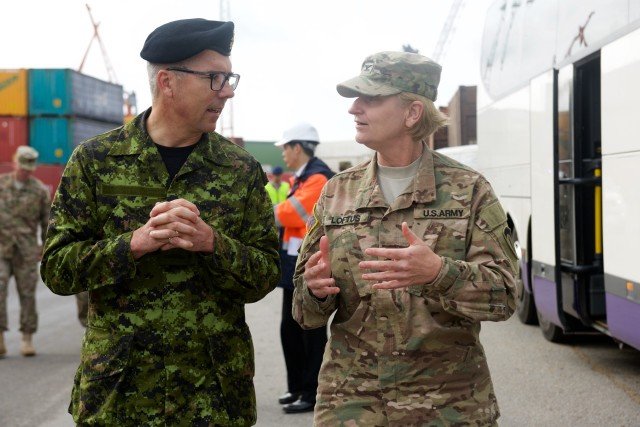 By Sgt. Daniel Cole
USAREUR
Over the past few days, an entourage of approximately 80 senior leaders from around the European theater met with dozens of sustainers and logisticians during the Sustainment Terrain Walk.
Lead by the 21st Theater Sustainment Command, the three-day caravan visited sustainment and logistical operations in Germany, Latvia and Poland. Participants were able to see each step of the process in person, dissecting every aspect to identify issues and study successes.
"It is very different when you see it on paper then when you see it in person," said Estonian Maj. Oliver Kits. He also added that this trip was extremely informative and he was making connections and partnerships to use for future planning purposes as the allies continue to work together.
One of the main logistical operations currently underway is the incoming European Activities Set equipment, which is used to support rotating units participating in Operation Atlantic Resolve. This influx has been a dynamic test of the logistical capabilities of the U.S. military.
"Eighty percent of your logistical support comes from our reserves," said Brig. Gen. Phillip Jolly, commanding general of the Army Reserve Sustainment Command.
Jolly also stated he is going to look at how to better augment his reserve Soldiers into supporting the logistical operations.
The walk allowed challenges to be addressed on the spot and provided critical face-to-face connections between the leaders and logisticians.
"This is a great opportunity to network, bring knowledge back to the organization and understand how we as of the [Brigade Combat Teams] here in Europe fit into the bigger picture," said Lt. Col. Jim Reibestein, commander of the 173rd Airborne Brigade, Brigade Support Battalion.
"As we go forward I have a lot to learn and the contacts I have made on this trip has been invaluable," said Canadian Commodore Marcel Hallé, the Assistant Chief of Staff (J4) at the Supreme Headquarters Allied Powers Europe. "I certainly look forward to extending the relationships that have been developed.