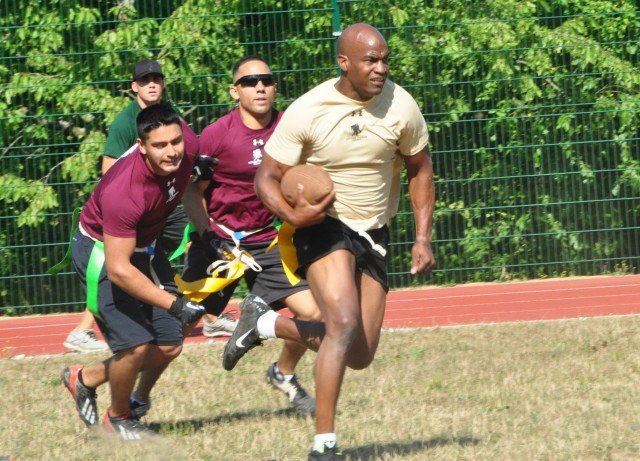 By Nathan Herring
U.S. AFRICOM Public Affairs
U.S. Africa Command staff members and their families gathered at Kelley Barracks Aug. 7 for a day of fun, camaraderie, and competition during the fifth annual AFRICOM Olympics.
Competitors from AFRICOM's nine directorates, U.S. Marine Corps Forces Africa, and Special Operations Command Africa, took part in more than 20 events ranging from flag football to a chili cook-off.
Ultimately, MARFORAF took home the commander's cup while SOCAF took second and the AFRICOM J4/6/7 placed third. In the chili cook-off, MARFORAF won first place, AFRICOM J2 placed second, and the AFRICOM J4/6/7 team took third.
The AFRICOM Olympics aim to promote good morale and team building among staff members through friendly competition on the athletic field.
"It's a day of fun and camaraderie," U.S. Army Gen. David M. Rodriguez, AFRICOM commander, said during the opening ceremony. "It's a super day to be able to take a break from the daily grind and talk to each other, have fun with each other, enjoy your families, and enjoy this wonderful summer weather here in Stuttgart."
Staff members participating in the day's events said it was a great way to meet other AFRICOM team members.
"A lot of times, we do so much work by phone and e-mail. You see people's names but you don't see the person on the other end of the phone or correspondence," said Catherine Kaehu, with AFRICOM's Manpower and Readiness Personnel Plans and Policy division. "To be able to see people face-to-face and communicate with them while having fun at the same time is great."
This year, seven veterans from the Wounded Warrior Project organization faced off against general and flag officers in a seated volleyball game.
"It's great to come here and be able to bring these wounded warriors over to participate in the games," said Jason Braase, Wounded Warrior Project spokesperson.
In addition to sporting events pitting directorate against directorate, many family-friendly activities and kids' games were available including egg toss, musical chairs, face painting, and a hula-hoop competition.
An event as large as the AFRICOM Olympics takes a massive amount of planning and coordination. Representatives from each of the nine directorates, MARFORAF, and SOCAF Africa met regularly in the months leading up to the event.
"I want to thank all of the volunteers that put all this together," Rodriguez said. "They organized all of the events, provided refreshments, and just provided a lot of fun for everyone."
As the event wrapped up, Rodriguez had some parting advice for the competitors.
"There's going to have to be some guys and girls working out and practicing to get better so they are ready for next year," he said.